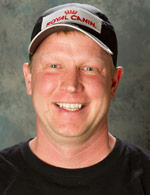 Biography
Ed Stielstra's mushing career began helping a family friend and has grown into his family's business – Ed and his wife Tasha, along with their son Nate, now own and run Nature's Kennel Sled Dog Adventures and Iditarod Racing Team in Michigan's beautiful Upper Peninsula.
Ed, 44, was born in Michigan and raised in Kalamazoo and Ludington, where he was introduced to sled dogs and started Nature's Kennel. He received a B.S. from Lyman Briggs College at Michigan State University. After getting married in 1998, the newlyweds relocated, along with their dogs, to Duluth, Minnesota, where Ed worked in a foundry and Tasha taught elementary school. Since returning to Michigan in 2002, this time to McMillan, because of snow, trails and lack of neighbors, both Ed and Tasha operate Nature's Kennel full time. This winter will be their tenth season operating dog sled tours. They provide day and overnight tours at their main kennel location in McMillan and also at Boyne Higlands Resort in Harbor Springs, Michigan and at Sunday River Resort in Bethel, Michigan.
Ed has been racing for twenty years. Beginning with his rookie run in 2004, Ed has finished seven Iditarod races. He missed the race in 2010 for the birth of his son Nate and will miss Nate's third birthday this winter to compete in his eighth Iditarod. Ed was the 2008 UP 200 Champion.
Along with tours and racing, Ed and Tasha combine their mushing experience with their teaching experience – with both students in the classroom and beginning mushers at the kennel – to do presentations for students in kindergarten through 8th grade around the US and abroad. Their "Pulling Together" presentations focus on teamwork and respect from a sled dog's viewpoint.
When not racing, training, running tours, or presenting, Ed enjoys spending time with Tasha and Nate in his home state of Michigan. He is a member of Mush with P.R.I.D.E. and the UPSDA. Ed is proud to be among the mushers representing the lower 48 states at the Iditarod.
2013 Standings
Checkpoint
Time In
Dogs In
Time Out
Dogs Out
Rest Time
Previous
Layover
Status
Distance
Enroute Time
Speed (mph)
8hr
24hr
Anchorage
3/02 11:18:00
12
Campbell Airstrip
3/02 13:15:00
12
1h 57m
0.00
Scratched