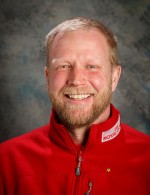 Biography
Ed, 46, grew up in Ludington, Michigan enjoying competitive sports, dogs and being outside. After high school, he attended Michigan State University where he received a Bachelor of Science from Lyman Briggs College of Science. Approximately 13 years ago, Ed and his wife left their "real world" jobs to operate Nature's Kennel Sled Dog Adventures and Racing full time. Their kennel is located in Michigan's beautiful Upper Peninsula, and they offer dog sled adventures geared toward the beginner.
Along with tours and racing, Ed and Tasha combine their mushing experience with their past teaching experience to do presentations for students in kindergarten through 8th grade around the US and abroad. Their "Pulling Together" presentations focus on teamwork and respect from a sled dog's viewpoint.
Ed says he ran his first Iditarod in 2004 because, "Basically I got tired of answering the question, 'have you ever run the Iditarod.'"
When not training dogs and entertaining guests, Ed spends his free time with his two children, Nate, 5, and Fern, 3.
2013 Standings
Checkpoint
Time In
Dogs In
Time Out
Dogs Out
Rest Time
Previous
Layover
Status
Distance
Enroute Time
Speed (mph)
8hr
24hr
Anchorage
3/02 11:18:00
12
Campbell Airstrip
3/02 13:15:00
12
1h 57m
0.00
Scratched