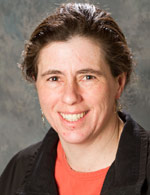 Biography
Jodi Bailey, 44, was born in Martha's Vineyard, Massachusetts. She went to school at Emory University in Atlanta, where she earned her BA in Theater and Anthropology. Jodi came to Alaska once she graduated. That was in 1991. She had spent summers here while she was in school and had "fallen in love with life in Alaska." Today she and Dan Kaduce call Dew Claw Kennel in Chatanika, AK home.
Jodi began mushing in 1995 and has run the Copper Basin, GinGin, Denali Doubles, and Kobuk 440, in addition to other shorter races. Jodi says, "I've been running dogs over a decade, and as I learn more and gain more confidence, I enjoy trying new challenges and trails with the kids-what we affectionately call the dogs at Dew Claw. When you are out there on the trail you don't have emails, or work, or laundry or anything, but you and them and the miles ahead of you. It is a wonderful feeling. When you travel by dog team you are really exposed to the world around you, experiencing it in all its beauty and extremes. I feel very fortunate to be able to do this."
In 2011 Jodi became the first rookie in history to successfully complete both the Yukon Quest and Iditarod in the same year. She thoroughly enjoyed herself on the trail and is excited about the opportunity to return to the Iditarod in 2013 and hopes to learn from last years' experience, improving her ability to care for her team over 1000 miles. Jodi is also a member of the Fairbanks Running Club and participates in their summer race series which ends with the Equinox Marathon in Sept. She says her hobbies are running, biking, and cooking. Jodi is married to Dan Kaduce, the Iditarod Rookie of the Year in 2010.
Sponsors
Usibelli Coal Mine, Inc.
David Smith
Sharon Hartshorn
Fordyce Logan, Jr.
Orren & Judy Brownson
Pendra King
Walt & Janet Tremor
Claudia & Lee Nowak
Mike Pickell
Sandi & Dave Kaduce
Lou & Fran Varndell
Becky Young
Robert & Jolene Parsons
Theresa & John Daily
Sandra Wildfeuer
Joseph Doranski
Sarah & Vaughan Axling

Connie Lykens
TJ's Land Clearing
ManMat
Neos Overshoe
Intuition Liners
Bailey Farms
Nancy Bailey
Virginia Pond
Meg Thornton
Marlys Sauer
Kirstie McGuinness
Dawn Beckwell
Mamie Brundige
Mike Farmer
Halliburton
Carol & Don Hand
Cynthia Lawrence
2013 Standings
Checkpoint
Time In
Dogs In
Time Out
Dogs Out
Rest Time
Previous
Layover
Status
Distance
Enroute Time
Speed (mph)
8hr
24hr
Anchorage
3/02 10:04:00
12
Willow
3/03 14:04:00
16
Yentna
3/03 17:53:00
16
3/03 18:04:00
16
0h 11m
3h 49m
11.00
42
Skwentna
3/04 00:43:00
16
3/04 00:58:00
16
0h 15m
6h 39m
4.51
30
Finger Lake
3/04 05:20:00
16
3/04 10:09:00
14
4h 49m
4h 22m
9.16
40
Rainy Pass
3/04 13:54:00
14
3/04 17:19:00
14
3h 25m
3h 45m
8.00
30
Rohn
3/04 22:48:00
14
3/05 04:10:00
13
5h 22m
5h 29m
6.38
35
Nikolai
3/05 18:08:00
13
3/06 00:15:00
12
6h 7m
13h 58m
5.37
75
McGrath
3/06 06:35:00
12
3/06 06:58:00
12
0h 23m
6h 20m
7.58
48
Takotna
3/06 09:37:00
12
3/06 09:54:00
11
0h 17m
2h 39m
6.79
18
Ophir
3/06 16:50:00
11
3/07 18:56:00
11
26h 6m
6h 56m
3.32
23
Iditarod
3/08 11:50:00
11
3/08 18:28:00
11
6h 38m
16h 54m
4.73
80
Shageluk
3/09 07:55:00
11
3/09 15:55:00
11
8h 0m
13h 27m
4.09
55
Anvik
3/09 19:34:00
11
3/09 21:37:00
11
2h 3m
3h 39m
6.85
25
Grayling
3/10 00:23:00
11
3/10 00:46:00
11
0h 23m
2h 46m
6.51
18
Eagle Island
3/10 15:03:00
11
3/10 20:25:00
11
5h 22m
13h 17m
4.67
62
Kaltag
3/11 11:26:00
11
3/11 11:45:00
11
0h 19m
15h 1m
4.00
60
Unalakleet
3/12 03:30:00
11
3/12 09:35:00
11
6h 5m
15h 45m
5.40
85
Shaktoolik
3/12 15:16:00
11
3/12 19:01:00
11
3h 45m
5h 41m
7.04
40
Koyuk
3/13 02:12:00
11
3/13 08:56:00
9
6h 44m
7h 11m
6.96
50
Elim
3/13 16:13:00
9
3/13 21:39:00
9
5h 26m
7h 17m
6.59
48
White Mountain
3/14 04:54:00
9
3/14 12:58:00
9
8h 4m
7h 15m
6.34
46
Safety
3/14 19:25:00
9
3/14 19:35:00
9
0h 10m
6h 27m
8.53
55
Nome
3/14 22:52:02
9
3h 17m
6.70
22