by Terrie Hanke in Nome
Seavey clan elder, Dan, made the Burled Arch on Nome's Front Street in below zero weather with the sun shining brightly over his shoulder on Sunday morning March 18th. He left the start with a schedule and if he followed it, there was little doubt about making the banquet in Nome except there was the detour between Shaktoolik and Koyuk on part of the Paul Johnson Memorial Race trail. As an Iditarod musher, Seavey's entry onto Front Street was announced as Bib #65. He wore another bib – #100 to celebrate the centennial of the Historic Iditarod Trail. As a matter of fact, communications folks along the trail often reported in/out times for bib #100.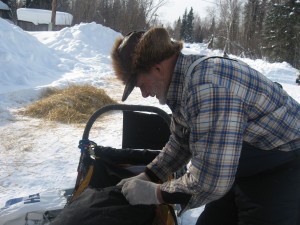 Grandpa Dan is a historian by profession so it's entirely fitting that he's the person wearing the centennial bib and celebrating the legacy of the trail that provides winter access between Seward and Nome. Over time, the trail brought miners to gold, mail to the miners and serum to the children of Nome. It's a rich part of history that showcases the indispensable role of the sled dog in the Alaska frontier. Dan learned of the trail when he moved his family from Minnesota to Seward to take a position teaching history in the high school.
 At the age of 74, Seavey finished Iditarod XL in 13d 19h 10m 30s with an average speed of 2.81 miles per hour. Back in 1973, after helping Joe Redington, Sr. get the inaugural race off the ground Seavey made it to Nome in 20d 14h 35m 16s for 3rd place and won $6,000. His 2012 race was just shy of a week improvement. Seavey has also raced in 1974, 1997 and 2001. He's completed all five Iditarod races he's attempted.
Here's a statistic to note, one that gives Dan some bragging rights around the dinner table over the younger generations. Dan's time in from Safety was 3h 12m. Son, Mitch, who won the Last Great Race in 2004 covered the 22 miles from Safety to Nome this year in 3h 17m. In the process of claiming 2012 Iditarod gold, Dan's grandson, Dallas, ran the distance from Safety to Nome in 3hr 47m. Congrats Dan on winning the Seavey family race from Safety to Nome for 2012.
With the Centennial Musher crossing the finish line in 51st position, there's a saying that comes to mind.  "The thrill is not just in winning but in the courage to join the race."  Dan, you've touched the hearts of many during Iditarod XL as the ambassador for the Centennial Celebration of the Iditarod National Historic Trail and with your courage to join the race and persevere to the finish.