Hello friends,
The 45th Iditarod is officially in the books. 64 teams of mushers and K-9 athletes made it to the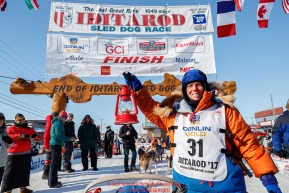 finish line in Nome in time for the annual Finisher's Banquet. Cindy Abbot, one of my favorite mushers, was the last under the Burled Arch where she received the Red Lantern Award – her second one. Cindy is proof that, with determination and courage, anyone can run the Iditarod. She has a rare disease called Wegener's Granulomatosis, but that doesn't stop her from doing anything. She is the only woman who has climbed Mt. Everest AND finished the Iditarod. BowWow! What's next? The moon?
Another racer my kennel mates and I admire is Jessie Royer. This year she won both the Leonhard Seppala Humanitarian Award AND the Most Inspirational Award. She finished the race with all 16 of her athletes. That's howling good Jessie – congratulations!
Some of the dogs will now take a rest, but some will continue racing. It may be spring, but here in Alaska there is still plenty of snow. As long as we can run – we will! 
The Finisher's Banquet marks the end of this year's Last Great Race. Thanks to all the teams for making this an exciting sport to watch and be a part of. Wawawawooooooooo to all of you!
Tail wags,
Zuma