Hi Boys and Girls,
Well this old dog learned a new thing.  First I'm sorry for giving out wrong information.  This is what happened and what I learned.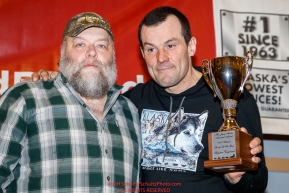 When watching the Rookie of the Year position and then who won, I forgot something really important.  The award is given to the Rookie who is the first rookie to finish the race. But there is an exception.  The rookie cannot have started the race any other year.  Well, Robert Redington started the Iditarod last  year and scratched.  While he was considered a rookie this year, he was not eligible for the award.  So Rookie of the Year goes to Sebastian Vergnaud.
Congratulations to Sebastian.
I'm back to rereading the rules!
Gypsy