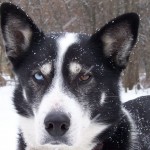 Since you've read Heroes, Heroines & Idols featuring our heroes Martin Buser, Bruce Linton and Balto, have you created definitions and a list of your own heroes? Have you taken time to define hero? I got together with some of the elder dogs in the kennel, Baffin, Holstein and Tikchik, to come up with the Just Guts definition of hero. Here's what we came up with.
Because we are dogs, some of our heroes are canine and some are human. We think the same might be true for humans. When Gunner Kaasen came into Nome with the serum in early February of 1925, most certainly his hero was Balto. Heroes possess extraordinary gifts, talents and strength. They are known for their remarkable achievements, outstanding qualities, courageous actions and brave or amazing deeds. They are held in high esteem. A hero might also be called superman, brave man, champion, conqueror or idol. The elder dogs, Baffin, Holstein and Tikchik, based their definition on a huge thick book called the Miriam-Webster Dictionary. I contributed by doing some research on the computer in the Encarta World English Dictionary.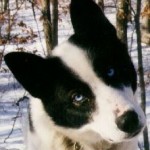 Martin Buser's run to Nome in 2005 with an injured hand definitely falls into the category of a remarkable achievement. He started the race and was able to finish in 13th place because of his extraordinary strength and his drive to persevere against adversity. How about Bruce Linton with his diabetes? We consider him to be a real superman. People told Bruce he shouldn't compete in the Boston Marathon, the Ironman Triathlon or the Iditarod because he was diabetic. But because of his strength and courage Bruce was determined to accomplish what he wanted to in life rather than letting his medical condition rule. Both Martin and Bruce have prevailed to achieve their goals against steep odds. Now it's time to share stories about Togo, another one of our heroes.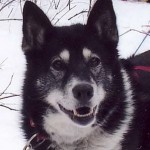 Togo wasn't always the famous Alaskan Siberian husky of the Serum Run. I learned in the books, Gold Rush Dogs by Murphy & Haigh and The Cruelest Miles by Salisbury & Salisbury that Togo was a sickly spoiled pup, hard to handle, difficult and mischievous. Leonhard Seppala actually found a new home for him, not once but twice, and twice Togo returned to where he was born. Finally Seppala gave in and decided to keep Togo. As a young pup, Togo rain along side Seppala's team as they trained but he was always a nuisance nipping at their ears and tails. Once when Seppala had to make a very lengthy run to a mining camp, he confined Toga in the dog yard. Togo wanted to be with the team so he broke free and ran after the them. When Seppala came out of the roadhouse where he had spent the night, there was Togo waiting next to the sled. There was no way to send the bold eight-month-old puppy home so he was harnessed and put in wheel. Seventy-five miles later, Seppala realized that Togo had behaved better and worked harder than any of the other dogs. Seppala realized there was something special about this persistent, if not spunky puppy. Over time, Togo was promoted to lead, a position he held for 16 years. Seppala had found a great leader in the grown up dependable Togo.
After winning the All Alaska Sweepstakes three times, the Ruby Derby twice and numerous other races, Togo, teammates and Seppala were quite famous in Nome. No wonder they were chosen to head out from Nome, meet the serum and bring it safely to the children. Over the 261 miles from Nome to Shaktoolik and back to Golovin, Togo and team experienced Alaska's most brutal weather. True air temperatures reached 50 degrees below zero. Winds gusted to 50 miles per hour and created wind chills that were unimaginable. "Blizzard" didn't adequately describe the winter storm conditions, at zero visibility, Togo had to follow the trail with his nose. After Seppala received the Serum from Henry Ivanoff on Norton Bay outside of Shaktoolik, Togo lead the team on a risky but time-saving short cut across the heaving ice of Norton Bay to Isaac's Point. With his sixth sense for danger, Togo did what he was famous for.  Believing in Togo's leadership, Seppala turned the team over to him to safely cross the dangerous sea ice.
With Togo in lead, Leonhard Seppala drove 170 miles from Nome to Shaktoolik to meet the serum and then returned 91 miles to Golovin. Altogether, Togo covered 261 miles in the race to save the children of Nome, a far greater distance than any of the other teams in the relay. In The Cruelest Miles, Salisbury describes Togo as a dog that didn't look like a leader – he was small, about 48 pounds, with a black, brown and grayish coat but he was large when it came to courage, intelligence, speed and dependability. In 1925, at the age of 12, Togo was amazingly "fast, strong and alert." After all, beauty is only skin deep and it's not the size of the dog, it's the size of the heart inside the dog that counts.
Well, there you have it – some great stories about our hero, Togo. What a dog! If you haven't already done so, read Gold Rush Dogs by Murphy and Haigh and The Cruelest Miles by Salisbury & Salisbury. They are packed full of stories about great dogs and the events that made them great. By the way, if you ever get to Alaska, Togo's body has been preserved and is on display at Iditarod Headquarters in Wasilla.
Stay tuned for more hero stories and remember the Togo saying – it's not the size of the dog; it's the size of the heart inside the dog that counts.
Born to Run,
Sanka