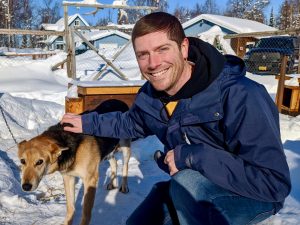 The Iditarod is proud to announce that Jim Deprez will serve as the twenty-third Iditarod Teacher on the Trail. 
Jim is in his 15th year of teaching at elementary education. After growing up in central Massachusetts, he went to college in Ohio and pursued a career in teaching. Since then, Jim has taught grades 2, 3, and 5 in Ohio and North Carolina. He currently teaches third grade, at Ridgewood Elementary School, in Hilliard, Ohio.
Deprez has been teaching about the Iditarod for over a decade, each year adding something new to the 6-week interdisciplinary unit. He added that, "Each of my teaching experiences have allowed me to reach a new audience and spread knowledge of the Iditarod. I am always trying to think of new activities and ways to make it more interesting for each new group of students. I'm sure being the Teacher on the Trail will be the culmination of the entire Iditarod experience. I am really looking forward to this amazing opportunity."
Beginning in September, Deprez will post three Iditarod Edu messages each month. His messages will include lessons, lesson prompts, Then and Now stories, and a segment where he'll explore common misconceptions about the Iditarod and sled dogs.
The Iditarod would also like to congratulate 2020 Teacher on the Trail, Kelley Villar, who reached out to schools around the world while on the trail in spite of the uncertainties and challenges of the COVID-19 pandemic. Kelly did an outstanding job of sharing unique and interesting lessons as well as stories from the trail. Her messages brought the race to life for students and teachers throughout the year. Kelly's posts from the 2019–2020 school year will remain on Iditarod Edu's website for teachers to access in the future.  
Jim is very excited to carry on the tradition of teacher on the trail established in 1999 by Andrea (Finney) Auf der Heyde. The real-life applications that Iditarod offers give teachers powerful tools for motivating students of every age in every aspect of the curriculum. 
Follow Jim throughout race season at Teacher on the Trail on the Iditarod.com/edu website.