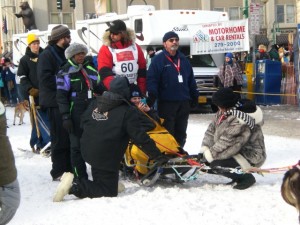 Idita-Rider frenzy is just beginning because bidders from around the world are placing their bets on the ride of a lifetime in an Iditarod Sled. Those lucky bidders who win a sled dog ride get an up close and personal view of world class canine athletes zipping along an 11 mile trek through Anchorage at the start of the race in Anchorage on March 2, 2013. Idita-Rider Auction Director Deby Trosper says that the bidding is very exciting each year.  This is an important fund raiser for the race so every dollar raised helps stage the Iditarod.
"With so little time left, Idita-Rider enthusiasts are at the stage where they begin placing their bids on teams and then watching the activity online," said Trosper.  If you are planning to be in Anchorage for the start of the race and you want to be seated on a sled and not along the street watching sleds go by, the next 24 hours are not the time to take a mandatory rest!  The on line bidding activity can be a real motivator for a person who might be strategizing a last minute bid because a bidder's strategy becomes part of the auction action. Today is a day of watching the bids to see someone else places a bid on a favorite musher or strategizing to place a bid at the perfect moment, when perhaps no one else is watching in hopes of securing one's seat on a sled.
"We have folks who will be online for hours watching the activity. Some wait until a musher reaches a certain dollar amount and then they get in the game," added Trosper.
The Annual Idita-Rider Musher Auction begins closing at noon (AST) on Friday, January 18th.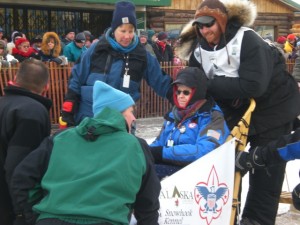 It is not too late to be a part of this year's IditaRider experience.   Bid and ride in a musher's sled.  Go to the auction section of the website right now.  Register and become a part of the auction action.  If you are already registered, then bid on your favorite musher and have a backup plan on who to bid on if you are outbid on your first choice musher. 
AND don't forget, if you are really up for the adventure of a life time, purchase the Ultimate Adventure and journey to Rainy Pass for a two night opportunity to watch the race and be a part of the volunteer team!  This adventure is for the buyer and one other person.  There is only one Ultimate Adventure package for sale.  Learn more at this link.
Make 2013 the year you win!  Ride with a musher at the start of the 2013 Iditarod and support the Last Great Race on Earth®, Iditarod®.
The Iditarod Trail Committee is a 501 (c)(3) nonprofit organization.
Proceeds raised help support the Iditarod Trail Sled Dog Race®.