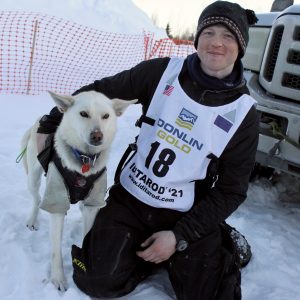 Iditarod rookie Chad Stoddard (bib #18) of Anchorage, Alaska, won Rookie of the Year when he and his race team finished in 23rd place.
He becomes the rookie with the best time in 2021, finishing in 9 days, 4 hours, 3 minutes and 10 seconds with 13 dogs in harness.
After graduating from Western Washington University, Stoddard moved back to Alaska and got his first job working with sled dogs for Alaska Icefield Expeditions. He now spends summers working with Gold Rush Dog Tours in Juneau.
Stoddard says his great grandfather delivered mail around the time of the 1925 Serum Run and his family has ties to Nenana. Stoddard says it is a great privilege to travel the Iditarod trail and honor those dogs and mushers who have come before him.
The Rookie of the Year distinction comes with an additional cash prize of $2,000 and a trophy that lives at Iditarod headquarters year-round.