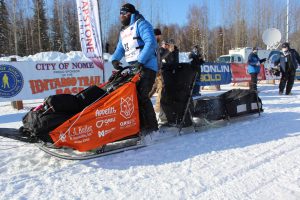 Veteran Iditarod musher Dallas Seavey (bib #23) of Talkeetna, Alaska, was the first musher to reach the Skwentna (south) checkpoint today at 12:44 p.m. with 10 dogs.
With the modified Iditarod Gold Trail Loop for the 2021 race, Northrim Bank's award moved from the White Mountain checkpoint to the Skwentna checkpoint. Seavey receives a $2,500 check and a special trophy that resides at Iditarod headquarters year-round.
"Our award inspires all Alaskans to 'achieve more' and we are honored to celebrate the tradition of mushing in Alaska. As an Alaska grown bank, we know the pioneer spirit it takes to thrive in Alaska and also on the Iditarod trail. Seeing the race adapt this year to ensure the safety of mushers, dogs, volunteers and the communities along the trail has been a testament of the Alaska spirit. We are honored to be able to present the Northrim Bank Achieve More Award to Dallas Seavey who arrived first in Skwentna this year," said Chairman, President & Chief Executive Officer Joe Schierhorn.
The Northrim Bank Achieve More Award will be re-presented to Seavey at a later date.