Live east of the Rockies?  Your only musher representing half of the lower 48 states for Iditarod 2012 is veteran musher Ed Stielstra of McMillan, Michigan.  This is a burden of responsibility that Ed, who has a sharpened sense of humor, was able to defuse by avoiding any direct response to my questions. It took me a while to get him to admit that he was from Michigan.  But, I still tried to nail him down by guaranteeing that any statement he made would not be made public.  
I failed to tell him that the Insider was really not a public news source. He eventually volunteered that it was his innermost, not for public disclosure, intent to "finish in the top twenty."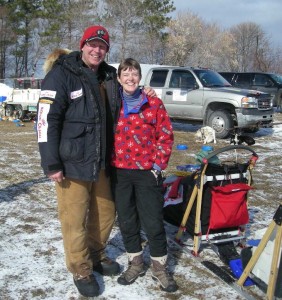 Ed and his wife Tasha operate Nature's Kennel Sled Dogs, doubling both as a sled dog tour operator and a competitive racing kennel.   I took a photo of Ed and Tasha in front of their dog truck at the UP200 race finish at Grand Marais, Michigan (not to be confused with Grand Marais in Minnesota) on Feb. 20, less than two weeks before Iditarod's race start.  You will understand in a moment why the truck is actually an important personality in Ed's Iditarod narrative.
Ed was using the nearly 240 mile UP200 sled dog race as a tune up run for his Iditarod team before launching on an epic drive to Anchorage.   I was the race marshal for the event, so I was aware that he had previously won the UP200, but was staying on the edge of the fast pace of the race to put his dogs into that long distance, steady traveling, "Iditarod mode."   Nevertheless, he and team were only two hours off the winning time of speedster Ryan Anderson, gaining the "cred" that he was prepared to put a solid team on the Iditarod trail.
OK, what are the practicalities of operating a 100 dog kennel for tours and racing?  "Essentially, we separate the tour dogs from the race dogs, because their job and training is different.  Still, my race dogs are paying their way and working with tourists when I need them.
All the dogs, either race dogs or tour dogs, are handled as pups so that we have completely socialized, pet quality, sled dogs.  All of our race dogs have done duty as tour dogs, so they are very easy to handle and love people.  I also have a big kennel, which allows me to choose dogs that can also be good racers.  The limitation is that the kennel tours support my family, so training for racing is always a second priority."
An Epic Drive to Alaska
Ed just completed five runs of approximately 50 miles, with three rests on the trail totaling 16 hours.   That's a classic Iditarod formula, so I was interested to know what he does next.  It was Sunday afternoon, Feb. 20.
"We'll let the dogs rest for a day and take them on a forty mile run on Tuesday.   We plan to leave for Alaska on Wednesday."
Here begins an improbably journey.  "Oh yeah, three of us will take turns driving.  Two of us sit in the front while the third person sleeps in the back seat.  Basically, we are driving straight through to Alaska.  With smooth sailing, no mechanical breakdowns, we can drive about 4,000 miles in 3 days 5 hours."
With three people, dog drops on the road are fast and efficient.  The dogs are fed and watered at 6AM and 6PM, which also allows the dogs to stretch.  Two hours later, the dogs are taken out of their dog boxes and tethered around the truck for another quick break.   In total, that's four breaks a day on the road.
If all goes well, Ed reports that he will train the team in Whitehorse, NWT, and then cruise into Anchorage for a scheduled veterinary check, including an EKG and blood work, on Monday Feb 27.
My take on Ed's expedition
This story demands an update next week as I note that Ed's narrative includes many qualifiers—"no mechanical problems,"  "if all goes smoothly,"  " nearly four thousand miles,"  etc.
The drive seems daunting, notwithstanding the presumption that the truck will run continuously and flawlessly.  
I mentioned this to Doug Swingley, the 4X champ from Lincoln, Montana and he was not in the least surprised.
"You would think, Doug," I offered, "that a reasonable person would arrive a week early to put the odds in your favor."
"No," Doug defended Stielstra, "that's the way you have to do it.  We always left Montana on Friday to get there on Monday and drove straight through.  We wanted to get there for the start without contacting the dogs with any other teams.  That way we could at least start the race healthy.  Otherwise, you were mixing with all the winter crud from around the world."
Part II, continued, "Ed Stielstra arrives Alaska?"