Welcome to Nome was the announcement/proclamation heard on Front Street this morning at 0220. The incoming Iditarod finisher was Tommy Jordbrudal. The rookie finished in 44th place with an average speed of 3.22 miles per hour. Tommy didn't have his first mushing experience in his home land of Norway but rather in Juneau, Alaska. That experience, twenty-five years ago, led to the dream of Iditarod and now Tommy has earned his finisher's belt buckle. He's done all the long distance races in Norway, not once but multiple times. The Jordbrudal family lives in the world's northern most community, Longyearbyal. There are pros and cons – they are two days by boat from mainland Norway but they can start long-distance dog sledge expeditions from their doorstep. Even so, Iditarod was still in the back of his mind. Tommy's wife Janne got the opportunity to spend a year at the University of Alaska – Fairbanks as a visiting researcher. With eight of their dogs the Jordbrudal family moved to Fairbanks and Tommy has realized his Iditarod dream. As a dog sledge guide, Tommy leads adventure trips that might be a daylong adventure or an expedition to the North Pole. Safe to say, Tommy is experienced in long distance travel with sled dogs. Congrats Tommy on accepting the challenge of Iditarod and conquering!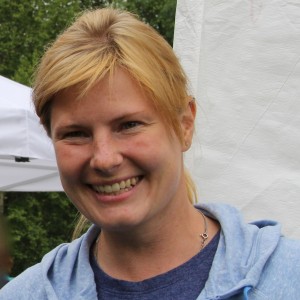 Seven minutes later, her husband, other tireless spectators and Iditarod officials under the arch greeted German born Yvonne Dåbakk. In 2005 Yvonne moved to Oslo, Norway to attend the university and study physics. Later, Yvonne accepted a research opportunity in Svalbard, a group of islands that lie halfway between Norway and the North Pole, to do research on northern lights physics. Fascinated with sled dogs, Yvonne found time to gave mushing a try and became hooked. Yvonne and husband, Kenneth, built their own team and eventually entered the Finnmarksløpet, the longest Sled dog Race in Europe. Another research opportunity presented itself, this one at the University of Alaska – Fairbanks. Now residing in Alaska, Iditarod seemed like the next natural step. Dåbakk's dogs are all registered Siberian Huskies. Prior to Iditarod Yvonne said, "Together we will go as far and as fast as they (dogs) want to go, always with a happy healthy team as our first priority!" Yvonne's career list of sled dog races isn't long but with finishing Iditarod 42 she's added a significant accomplishment to that list. With Yvonne's arrival in Nome, twelve of the thirteen foreign 2014 Iditarod entrants have accomplished their journey to Nome. Yvonne has claimed 45th place traveling at an average speed of 3.22 miles per hour in 12 days, 11 hours and 31 minutes. Yvonne had a very big smile last June at the Volunteer Picnic & Musher Sign-up event when her name was drawn to have the Iditarod entry fee waived. Under the arch this morning, having had an incredible as well as challenging Iditarod experience, her smile was just as big. Does Yvonne plan to wear the coveted Iditarod finisher's belt buckle she earned this morning? No, she plans to gift it to Kenneth. Without his help and support, she would never have been able to race Iditarod. Will we see either Kenneth or Yvonne in 2015? My guess is yes.
Alex Buetow, a Fairbanks resident with a degree in Environmental Studies from Montana State University completed his rookie Iditarod at 0428 this morning. Alex has worked for Jake Berkowitz at Apex Kennel as a puppy wrangler. Not only has Alex gained from Jake's mushing experience but also his father and uncle have both run Iditarod. Looking at the stats, Alex spent a long time in route from Safety to Nome. The twenty-two mile run took the Buetow team 14 hours and 21 minutes. Here's what happened. Coming into Safety from White Mountain, there had been fresh snow on the trail along with some wind. Fresh snow, far different than the hard packed, icy trail over the last 900 plus miles of trail. It was a good trail and they had a decent run. Alex decided to take a short two-hour rest at Safety before pushing on to the finish. All along the trail, Alex had been sticking with a relatively equal run rest schedule. It took him seven and a half hours to get to Safety. To the dog's way of thinking or basically to how the dogs have been trained a rest would mean six hours of straw time. Alex was thinking a short rest; the dogs were thinking a normal rest. The dogs left Safety but without enthusiasm. Wisely reading their mood, Alex returned to Safety to give them the break they were expecting. After leaving Safety for the second time, their run to Nome was good and Alex was awed with the experience they had on the trail, including all the challenges.  When Alex has time for hobbies, he enjoys paddle sports – ping pong and canoeing.
With Elliot Anderson and the Buser puppies calling it quits in Elim, there are three mushers still on the trail. Looks like they'll make it to Nome later on Saturday, perhaps much later but definitely in time for the Sunday Finisher's Banquet.