There's a coffee shop located in the McGrath B&B. It's a favorite stop of many volunteers as they work in or pass through McGrath. Myself included. You can purchase a Mackey Mocha, Frappe, Smoothie, Latte, Breve, Americano or Tea. When ordering a Mackey Mocha yesterday, I noticed a very large trophy displayed between the fireplace and a pair of huge snowshoes on the wall. With Mackey Mocha in hand, I went over to take a closer look.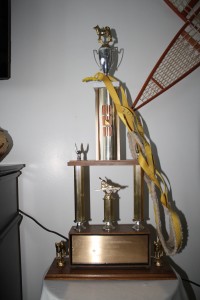 The gold trophy was about three feet tall with a little sled dog standing on top of a winner's cup. Half way up or down, there was a pedestal holding a little sled with a pair of eagles standing one on each side of the sled. On the base next to the inscription plate stood another pair of little sled dogs. The inscription read, "1980 Iditarod Trail International Sled Dog Race 1,049 miles Anchorage to Nome 3rd place". My initial thought was if this trophy for 3rd place is three foot tall, I wonder how big the champion's trophy was.
Hanging on the Trophy was a yellow dog harness with large letters penned with a ballpoint reading "Iditarod 1982 Lead Dog. The hardware on display didn't give any hint as to who might have earned the trophy or the harness.
There was only one available resource, the barista. Upon asking who won the trophy, she proudly replied, "My Grandfather, Ernie Baumgartner." Ernie lived in McGrath and ran Iditarod a total of six times. As a rookie in '78 he finished in 24th place. In "'79 he improved to 15th then in 1980 is when he crossed the finish line in 15 days, 9 hours and 9 minutes to earn the 3rd place trophy.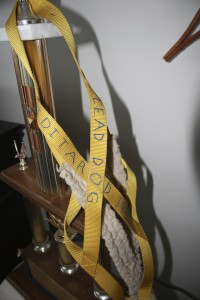 Ernie's granddaughter filled me in on the story about the yellow harness hanging off the trophy. Ernie was a front-runner in the race but stopped to aid a fellow musher in need. There was a ground blizzard and visibility was seriously limited. Ernie ended up carrying the second musher in his sled. While proceeding toward Nome in blowing snow with zero visibility, they lost the trail. Ernie's leader, Brandy got them back on the trail and safely into Nome. Thus Ernie's leader and faithful friend, Brandy, earned the Golden Harness Award and the team finished in 6th place.
Lolly Medley, a gifted harness maker and musher, convinced the Iditarod Trail Committee to sanction  an award to recognize the best lead dog in the race as voted upon by the mushers.  The prize consists of a custom embroidered dog harness and cash. Lolly Medley and Mary Shields entered the second race run in 1974.   Twenty-nine minutes behind Mary, Lolly was the second woman to ever finish Iditarod.  You could say the Golden Harness Award was literally created by Medley.  Not only did she suggest the award, she also created the first several harnesses.
Wouldn't it be fun to learn all of the stories about the Golden Harness Award since it was first established in 1976 by Lolly Medley?