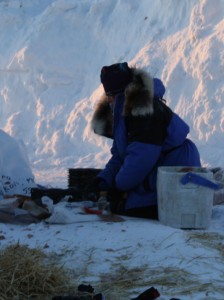 As of 17:30 on March 16th, Cindy Gallea is a veteran of ten Iditarod Races. She's sat out the last two years but found that she missed the time with her dogs on a trail characterized by its solitude and beauty. Even though she didn't get her dogs out for as many training miles as she would have liked, Gallea was very happy with the performance of her team. The area of Minnesota that Cindy calls home was short on snow this winter and unseasonably warm. The warmth in Minnesota may have actually been in Gallea's favor considering the weather on the Iditarod Trail. Cindy praised her 9-year-old leader, Hammer. Together they've done five trips to Nome. He loves the trail and was probably smiling through the gorge.
With the Trail between Safety and Nome obliterated by white out conditions, veteran Cindy Gallea stopped and waited. For those in Nome watching the GPS tracker to time her arrival, it was apparent she wasn't moving. Judging by the wind and near white out conditions in Nome, we could only assume the conditions on the flats around Safety would be much worse. Gallea did the right thing – wait it out, find the markers. Snowmachiners passing by directed her to the trail that was just a few yards away. Reoriented, Cindy made her way to Nome.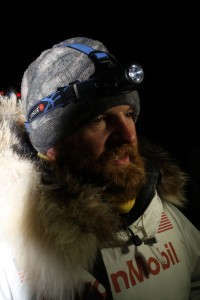 James Volek and a team of happy yearlings from Happy Trails Kennel trotted up Front Street as the first team in on St. Patrick's Day although, I didn't see any green. Not only was James wearing a completely white wind suit, he was also wearing a big smile. As a Buser apprentice, James had nurtured Martin's future racers on a field trip to Nome. What they learned with James is what Martin builds on in putting together his future teams. James feels very fortunate to have had this opportunity to experience remote Alaska. He had a plan with specified run/rest ratios. Of course, adaptability is key to success and James had to adapt based on the trail and weather conditions. There were any number of bright spots for the rookie musher and rookie dogs as well as a few tough spots. James saw each dog mature. One in particular led James and team into Nome. James hadn't pegged Thrasher as a leader during training but over 1,049 miles, Thrasher begged to take the lead. Maybe somewhere along the line, Thrasher had heard the saying, "Unless you're the lead dog, the scenery never changes."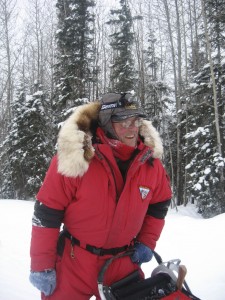 The second musher to make Nome on St. Patrick's day was Bob Chlupach. Bob drove a very smart looking dog team into Nome at 0518. His place, 53rd and his time 13 days, 14 hours and 18 minutes. Chlupah decided on Siberians as he established his kennel long ago. He's raised all of the dogs on his 2012 team. Seven of Bob's dogs were rookies on the trail that did very well. He said the last three hundred miles were all about soft trail and blowing snow but when they had a good section Bob was impressed by the speed his dogs ran at. He really had to manage their energy. Bob couldn't say enough about his young dogs and how quickly they adapted to the trail and how much they learned. Listening to Bob and kennel partner, Jan Steves, talk about the team they had just taken to the Nome Dog Spa, it was all praise and accolades. Bob loves the beauty and freedom of the trail and looks forward to more races with his up and coming Siberian stars.
As of this posting, Christine Roalofs is closing in on the burled arch and Red Lantern. Roalofs is on her rookie Iidtarod run. As of now and if all things remain constant, Christine should make Nome in time to attend the finisher's banquet that begins at 1500 hours.  Once she arrives, the widow's lamp that has been hung from the arch will be extinguished signifying all the mushers are off the trail.  I'll post her comments and picture from under the arch as soon as she arrives.