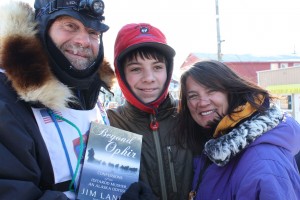 Iditarod legend, Jim Lanier drove his typically all white dog team under the burled arch in Nome to be greeted by his son Jimmy, wife Anna and a copy of his newly published book, Beyond Ophir.  On 3/14 at 12:08 under the burled arch was the first Lanier had seen his book in published form.
Lanier has entered and finished fifteen Iditarod races, with this finish, make the total 16. Jim has a couple of distinctions to brag about – he's never scratched from an Iditarod AND he's run in every decade the Iditarod has been run. What's more, Jim looks forward to running and being competitive in the sixth decade of the race, 2020. As five-decade mushers, Bob Chlupach running in 2013 and Rick Swenson who decided to sit out the 41st Iditarod join Lanier.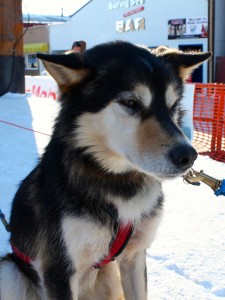 There's an exception that makes every rule. His name is Diesel. Diesel is the single non-white dog that ran on Jim's team to Nome as well as 15-year-old Jimmy Lanier's Junior Iditarod team. I asked Jimmy how this brown/black/white dog had a place on the Northern Whites Team. His reply was that Diesel is such a great dog, he just has to be on the team. Several years ago, Lanier bred an outstanding all white dog female to an all white male owned by fellow musher, Bob Bundzen. Genetically the explanation goes like this. Two non-color genes mated will produce all non-color genes. There you have it, the mating produced a litter of eleven all white puppies. From that point on Jim was intent on fielding all white dog teams. The name of Lanier's kennel, Northern Whites, was inspired by a night of spectacular Northern Lights.
Lanier's best Iditarod finish is 18th place and his best time is 10 days, 5 hours and 21 minutes accomplished in 2010. Jim finished the 41st Last Great Race in 35th place with a time of 10 days, 10 hours and 21 minutes.
Today under the arch, Lanier's fans celebrated his 16th Iditarod and the publication of his book, Beyond Ophir. There was another word buzzing under the arch – MAE. Yes, the Lanier leader that escaped from Newton Marshall's team while he was helping another musher is no longer running the trail without a team. Rounded up in Big Lake, Mae has lost a little weight but she's healthy and hydrated. The book is published; adventurer Mae is back home and Jim's finished another journey to Nome with nine white dogs and Diesel. Does it get any better than that?