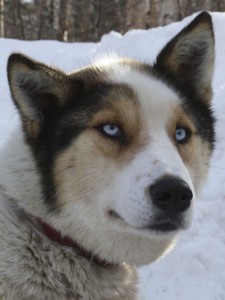 On Monday morning when the sky began to lighten, there were several mushers still on the river at Skwentna. At the same time race front-runner, Martin Buser was leaving Rainy Pass checkpoint for the ascent of the Alaska Range. About the time Buser hit the 3,200 foot crest of the pass, Russian, Michael Telpin called his dogs off the straw for the run to Finger Lake. The Russian had rested his team 4 hours and 22 minutes.
Telpin is running a unique team of dogs in the 41st Iditarod. They are Chukchi dogs. They are shaggy, short and muscular. They've been called trucks for their strength and ability to pull heavy loads and they've been called 4-eyes because of the colored spot above each eye. Telpin has been around dogs all his life. Not pet dogs but working dogs. They are a part of his subsistence lifestyle. His dogs are used for both hunting and transportation. Living on the tundra in Russian, Telpin uses his dogs for travel year round, not just in snow. Summer sleds have steel runners and glide easily on the tundra grass.
Here's an interesting fact from Telpin's biography in the Iditarod Race Guide. When Leonard Seppala was called into action during the Diphtheria epidemic in 1925, his leader was Togo. Pictures of the celebrated lead dog who played a considerable role in saving the children of Nome show Togo to be shaggy, short and muscular. Togo was a Chukchi dog!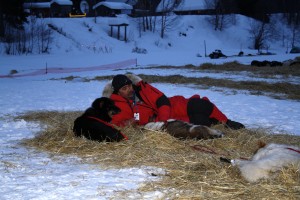 After arriving from Yentna Station and caring for his team, Telpin slept in the straw with his leaders. In the background of this photo is the high bank of the Skwentna River. Situated on top of the riverbank are the buildings of the Delia homestead as well as the Skwentna Post Office. The original Delia house is called the Outback Cabin and is used as the hospitality and communication center of the checkpoint.
Mikhail bootied the dogs then threw them each a frozen snack. One of the volunteers went to Telpin's sled and wished him well on his trip. Telpin doesn't speak much English. Sensing that his message hadn't been understood, the volunteer tried another approach. He shook Mikhail's hand and simply said, "Good luck." Perhaps those words are a part of a universal language understood by all.
The dogs, masters at energy conservation, stay on the straw until Telpin stepped onto the runners and gave the Russian command for MUSH. Instantly and in unison, the shaggy short muscular Chukchi dogs came to their feet and trotted out of the checkpoint with their tails high, curled and waving. .