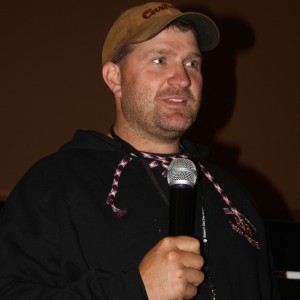 "Money, support and logistics was the hardest part of Iditarod, the dogs were the easiest. Don't worry about your dogs, worry about your pocketbook." Those were the first words from Nathan Schroeder of Minnesota to a large crowd at the first morning session of the Midwest Musher Symposium and Iditarod Teacher's Conference in Michigan the final and very colorful weekend of September. Schroeder, a millwright and family man with three young children was Iditarod's 2014 Rookie of the Year. To earn the title, he bested Abbie West.
As the 2014 race was drawing to a close for the two rookie mushers, they left Safety one minute apart with West in the lead. The honor of Rookie of the year could go either way depending on those last twenty-two miles. Up ahead, Nathan said he saw Abbie digging in her sled bag and he thought he say something fall out onto the trail. He thought he might be able to grab the object but with the wind and ice on the trail, he missed it. He yelled to Abbie that she'd dropped her bib. She replied, "I have my mitts." Soon enough West realized what he said. She stopped her team, set the hook and ran back to retrieve the all important bib. Nathan passed and maintained the lead to the Burled Arch besting West by six minutes.
Winning the 2013 Beargrease Race was Schroeder's financial stepping-stone to the Iditarod. He had a sponsor who promised that if he won the Minnesota race from Duluth to Grand Marais and back, she'd help him secure sponsor money and raise funds for the Last Great Race. A year later Schroeder found himself racing with his heroes across the state of Alaska. Immediately, Schroeder noted the huge number of spectators and the amount of air traffic.
Climbing up through Rainy Pass, Schroeder feasted on the beauty of the Alaska Range. Very soon, he was rocketing down the wild, rocky, rough and stump littered Dalzell Gorge to Rohn. Did it get better from there Nathan? His description of the Buffalo tunnels sounded very much the same – rough, rocks, glacier ice and stumps through the rolling hills. At one point, Schroeder's sled tipped, spilling its contents onto the trail. He gathered up everything lying around including an extra vet book that turned out to be Cim Smyth's and continued onto Nicolai. A couple of checkpoints later, Nathan took advantage of the food, water, shelter and space at Takotna for his twenty-four hour required rest.
The story of his experiences along the coast was punctuated frequently by the word WIND. Nathan says the coast was about ice, snow and wind, wind that you couldn't get away from. On the far side of Norton Bay as he was preparing to or at least thinking about leaving Elim, the checker said, "Hey, if John Baker isn't going out in this wind, you shouldn't." He and a bunch of other mushers went back inside for some extra sleep but they all slept with one eye open to know when Baker was getting ready to leave.
Arriving in Nome, Schroeder was of the mind, that he'd not be back for another Iditarod. One and done! Here he is, signed up again for the Iditarod. Schroeder said, "I'll do what I did again." Things he intends to improve on – packing. Experienced mushers had nicely organized stacks of gear around their sleds. In comparison, Nathan described the mountains of unorganized gear piled around his sled. He'll organize his gear so that he knows where everything is. It'll also allow him to grab and go. Personal food will be another area he'll improve upon including taking plenty of fruit snacks. When asked how did your 2014 Iditarod experience prepare you for future races, Schroeder replied, "I'll have more confidence in wind."
Chevy, a retired sled dog accompanied Nathan to the symposium. Chevy attended the afternoon Hands on Educator sessions and modeled for the genetic trait and angles activities. Schroeder and other Iditarod finishers, Jeff King, Hank DeBruin and Ed Stielstra autographed posters for educators and kids in attendance.