Consider the dichotomy – following the mushers by Ion Earth GPS Tracker, assuming arrival is imminent then heading outside to greet a human traveling by dog team. On one hand it's the newest and greatest technology on the other it's a form of travel dating further back than the beginning of time in Alaska.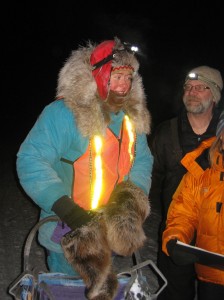 Last night it was musher #40, Angie Taggart. Tracker said she was within a mile or two. For those standing outside, her headlamp suddenly appeared out on the Kuskokwim River moving steadily along the trail toward the edge of town. The sky is star studded. For a while the light disappears as the musher and dogs climb the riverbank to the snow-covered road that runs along the edge of the river. Suddenly the light is coming straight toward the checkpoint. The team begins to emerge from out of the beam of the musher's headlamp. Soon they're close enough to see the vapor from their breath. Everything is quiet except for the nearly inaudible jingle of the dog's tags and the footfall of bootied paws. The team has arrived and the silence breaks when the musher calls, "WHOA."
Angie declares her 24-hour rest and is parked on the riverside of the checkpoint. She sets a snow hook at each end of the team and begins to care for her dogs. The vets arrive and Angie gives them a complete run down on each dog. In the mean time she begins to cook their dinner all the while talking about what a great run they had from Nikolai. "Finally," Angie says, "It's cool and they are really into running. It was our best segment of the race so far."
At the six hour mark of their 24-hour rest, the dogs were on their feet thinking is was time to go. Rather than putting boots on and pulling the snow hook, Angie surprised them with a hearty breakfast. A short time later, she did the same for herself. She chatted with other mushers, vets and volunteers inside the checkpoint while consuming blueberry pancakes, scrambled eggs and fruit soup.
Angie shared one of the moments she loves while on the trail. As you read on, this might surprise you. Taggart loves how warm and soft the dog's paws are after they awake from a trail nap and it's time to boot and go. She says their paws are like a fresh cinnamon roll that's just come out of the oven. There's one little exception – dog paws don't smell quite the same as warm cinnamon rolls.
Bee and Stove Pipe are having great runs and they are eating ravenously. Stove Pipe, age 10, Bee age 6, and Angie are Iditarod Veterans. They completed the 2011 race in 13 days, 1 hour and 49 minutes for 43rd place. God Speed Angie as you finish your long layover and head toward the Yukon River.