Watch the GPS Tracker and you'll notice three markers that are letters instead of musher bib numbers. The trail breakers are noted as TB. The trail sweeps are noted as TS. The one that was out in the lead on Monday was TT – Teacher on the Trail™, Linda Fenton.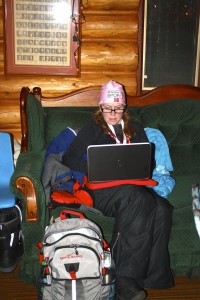 Fenton was chosen a year ago to serve as the 2013 Iditarod Teacher on the Trail™. Linda's year on the trail marks the fifteenth year of the program. Her job during the school year is to act as a resource for teachers not only in the United States but around the world who use Iditarod as a theme for education within their classrooms. She posts standards based lessons in all subject areas for teachers to use as is or adapt. During the race the Teacher on the Trail™ flies with the Iditarod Air Force to checkpoints to help around the checkpoint and meet with teachers and students. During the race, Fenton acts as a liaison from the trail to the classroom by posting instructional activities, lesson ideas and a journal of her experiences along the trail, in the checkpoints and around the villages.
The Waupaca Learning Center 3rd grade teacher spent the first night of the race out where the action is – SKWENTNA. While waiting for the first musher to arrive, Linda took the opportunity to create a posting for the Teacher on the Trail™ blog. She sat in the Delia Outback Cabin that has been used as the communication and hospitality center ever since the race began. The walls are filled with posters and pictures that recall days gone by. Every year, the two-page spread of musher's pictures from the Anchorage Daily News is posted for mushers to sign as they come in the door.
Hanging on the wall behind Linda is the musher page from 1986. Susan Butcher claimed her first of four championships that year. She was followed into Nome by Joe Garnie, Rick Swenson, Joe Runyan and Dewey Halverson. With pictures and signatures of all seventy-three mushers, the framed piece of newsprint is a valuable piece of Iditarod history.