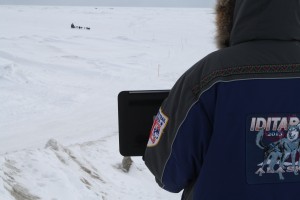 Spectators in Nome have two choices for premier Iditarod watching. The obvious is along the chute on Front Street in front of the Nugget Inn. The other requires a bit of a hike toward the east end of town to where the mushers come off the Bering Sea and follow the ramp onto Front Street. The later is where I chose to greet Mike Williams, Sr.
We heard the fire siren and very far in the distance, a moving object appeared. It might have been a slow moving snow machine or a dog team. Soon the unmistakable profile of a dog team began to take shape. It was Mike Williams, Sr. of Akiak, Alaska. Mike at 62 is running his 15th Iditarod with a special emphasis in mind. Mike is running for the cause of sobriety. A counselor by profession, Mike has seen first hand the devastating effects that alcohol can have on a community and on families. Mike wants to promote healthy lifestyles and chose to walk the walk, not just talk the talk by training to run The Last Great Race.
The folks gathered in the chute to welcome Mike, Sr. looked like a list out of Who's Who of Iditarod. DeeDee Jonrowe, Aliy Zirkle, Allen Moore, Jim Lanier, John Baker and Mike Williams, Jr. were there to celebrate Mike's accomplishment and they were there as friends. Mike is well known along the Iditarod Trail. Many folks stopped at the Unalakleet Checkpoint to chat with Mike and the same was true at other villages along the trail.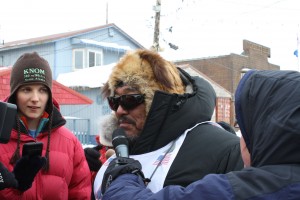 Interviewers under the arch asked many questions, some of which Mike chose to answer in his native Yupiaq language. Mike says with regard to his life with sled dogs, "We've always had dogs for transportation and for our survival as Yupiaq People of western Alaska. This was a very special race for the Williams family as both father and son were in the race together. Mike, Sr. has now completed 15 Iditarod runs but has been absent for the past three years when Mike, Jr. stepped in.
I asked Mike, Jr. what it meant being on the trail with his father. Mike said that his father has always been there for him and if it weren't for his dad, he'd not be successful at Iditarod.  They've never been on the trail together before and even though they weren't running together and didn't finish together; it's an experience that they shared, all of the challenges and all of the beauty. They'll share stories and talk about their first Iditarod together for a long time to come.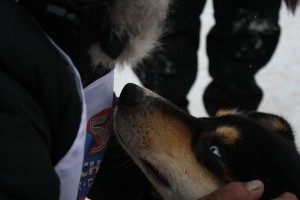 The senior Williams accomplished his best Iditarod time in 1997 finishing in 18th place in 10 days, 15 hours and 45 minutes. Mike, Jr. placed 8th in 2012 with a time of 9 days, 13 hours and 12 minutes. Mike, Jr. ran the 2013 race with an average speed of 4.08 miles per hour while Mike, Sr. ran the race at 3.42 miles per hour.
Mike, Sr. fells strongly about preserving and celebrating the place of sled dogs in the history of the North Country. It's a style of life that he knew as a boy. Spending time with his dogs on the trail, him depending on the dogs and they depending on him is an extraordinary experience.