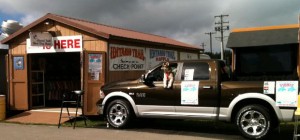 Iditarod's booth at the Alaska State Fair is our opportunity to showcase Iditarod to those that visit the Fair.  Each year, we're proud to set up our both with all kinds of Iditarod merchandise and memorabilia as well as introduce our 'new' merchandise.  

We are grateful for the time and energy of our volunteers (and staff) who put in many hours talking about the Iditarod, selling merchandise,  and selling our Summer Raffle Tickets.  Come rain, shine, cold weather or unseasonably warm weather, our Iditarod volunteer crew are on duty showing their support for the race.  A big thanks goes out to the volunteers and staff for sharing Iditarod to so many visitors who attend the Alaska State Fair!  We can never thank our volunteers enough because the bottom line to us is clear.  It is the volunteers of our organization that play a major role in getting the mushers and their teams from Anchorage to Nome.  We rely on our volunteers year round and want to formally once again say to them, "Thanks for all you do!"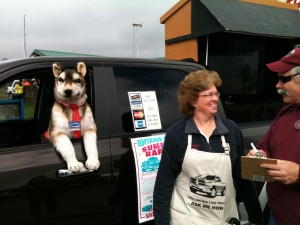 An important part of our time at the State Fair is spent selling Summer Raffle Tickets.  The raffle is very important to us because it is one of two major annual raffle selling events that are an important financial fundraising project to stage "The Last Great Race on Earth®".  2000 tickets are sold at $100 per ticket. All 2000 tickets must be sold.  Those who purchase tickets have the opportunity to win one of 10 great prizes including a 2013 Dodge Ram Truck or a $39,200 credit to buy any new vehicle at Anchorage Chrysler Jeep Dodge.  This year's drawing is September 2 at 5:00 PM.  Tickets will be drawn from the drum at the Iditarod booth.  You don't need to be present to win.  We'd like to say 'thanks!' to the race fans who support the race by purchasing raffle tickets.
 The winners of our raffle will be notified after our drawing and the winners will be posted on the Iditarod website and ITC Facebook page.  Good luck to all!
While visiting Iditarod's booth, fans have the opportunity to view scenes from the 2013 Race DVD, Swimming to Nome.  The DVD can be purchased at the fair as well as at Iditarod HQ in Wasilla, our store at the 5th Avenue Mall, and at the online store.  The Iditarod booth also sells Iditarod merchandise featuring the 2014 'new' items as well as  retro merchandise which is offered for a special 'fair' price, making the Alaska State Fair the perfect time to gear up on Iditarod T-shirts, hats, socks, pins, and other items.  Be sure to check out our online store  for items you need.
On Sunday, September 1,  2013 Iditarod Champion Mitch Seavey will be attending the fair for a special guest appearance.  More information will be posted on our Facebook page and in this article will be updated, so check back soon.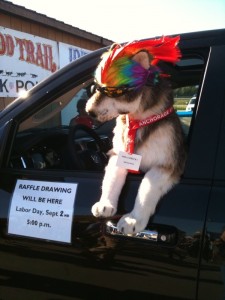 If you live afar and can't attend the Alaska State Fair, Iditarod's Facebook page is one way for you to keep up on what's happening at the fair and to meet special folks, some of them 4 legged, like "Lucky", Iditarod's famous mascot and volunteer. Lucky has been attending the Alaska State Fair in Palmer for many years and works every single shift at the Iditarod booth. Greeting race fans and telling behind the scenes secrets about the race  This year, "Lucky" got "Fair Hair" and sported a pair of shades to enhance his power of communications.  "Lucky" enjoys talking about Iditarod and getting his photo taken!
If you can't make it to the Alaska State Fair in Palmer, we hope you make it to the state fair in your own state.   Get 'all dressed up like Iditarod' when you go to the fair or other places in your community.  Send us your photo with your permission to put it  on our website and/or publications.  Email us your photo by clicking here  or post it on our Facebook page.
2013 Alaska State Fair Photo Album
Alaska State Fair Palmer
Click on thumbnail images to view a larger image.
All photos in this gallery are by Iditarod Trail Committee. Reproduction prohibited without written permission from the photographer.