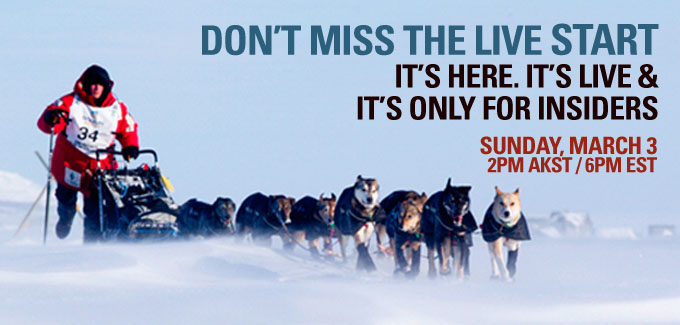 It's Racing Day. We've waited all year for it. The Insider Team has headed up to Willow to set up for the start of the 41st running of the Iditarod. Our cameras and staff and volunteers are ready to kick this off and give you the best coverage possible.
Today at 1:30PM AKST we'll be broadcasting the pre-race show with the official live start at 2PM and hope you'll be there with us (virtually in most cases). 
It's mobile. You'll be able to watch it on your Apple or Android device, so you'll be able to walk to kitchen for a snack and not miss a beat 😉
You'll need to be an Iditarod Insider to view it, so don't miss a second and subscribe. Of course,  you'll be getting the very best coverage possible with GPS and video from the trail. Most importantly, you'll be supporting this great race for next year with your subscription. Help keep this great Alaskan tradition thrive and see some killer coverage.
To become and Insider, click here before it's too late!
For existing subscribers, go to iditarod.com/live-restart