The Iditarod is saddened by the news that longtime Alaskan legislator and Iditarod advocate Gail Phillips has passed away.
One of Gail's first Iditarod volunteer jobs was making presentations to local communities with Joe Redington, Sr.
Gail and husband Walt's house in Spenard served as the Iditarod Trail Committee's office and many hours were spent around their kitchen table working with board members and volunteers to keep the fledgling race alive in those early years.
She was elected to the Iditarod board of directors in 1975 and served through 1979. Both Gail and Walt were also the first Iditarod board members who were neither dog mushers nor directly connected to the race.
In 1990 Gail was elected to the Alaska State House of Representatives, where she served for 10 years. During her tenure she served as the Speaker of the House, twice, serving four years (1995-1998), and she was the majority leader prior to that (from 1993-1994).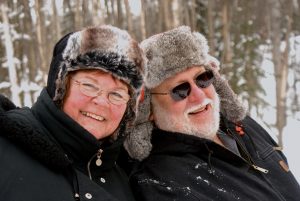 In 2015, Gail and Walt were two of eleven writers known as the "The Old Iditarod Gang" who authored, published and distributed a seven-pound, 422-page coffee table book, an anthology of the Iditarod called "Iditarod – First Ten Years." 
Gail remained actively involved in the "Last Great Race" as a board member of the Iditarod Trail Race Foundation, a non-profit organization dedicated to supporting the Iditarod. Last year, she was selected as the 2020 Iditarod Honorary Musher.  
Our thoughts and prayers go out to Gail's partner in life, Walt, and to the entire Phillips family. Gail's spirit will always live on as an Iditarod icon, and a great Alaskan.