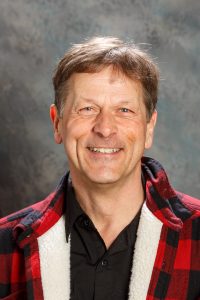 On Sunday, July 16th, 4 time Iditarod Champion Martin Buser was inducted into the into the Knik Museum Musher's Hall of Fame.  Marthin's induction was held at the Knik Museum. This date also marked the 50th Anniversary of the Hall of Fame. 
Martin's 'never give up attitude' along with his longstanding race record, made his induction into the Hall of Fame a natural.  Martin said, "What a great honor to be inducted into the KMHF. I remember racing past this historic building for the first time in 1980. I almost stopped to take a picture with my film camera, my how things have changed.  I am super happy to witness all the improvements in equipment, race strategies and especially the dogs and the care they receive."
Martin has signed up for the 2018 Iditarod.  This will be his 35th Iditarod.  He has raced every year since his rookie year, 1980, placing in the top 10 a total of 19 times.
Born in Winterthur, Switzerland in 1958, Martin became fascinated with sled dogs while still a teen. He came to Alaska in 1979 to enhance his knowledge of care and training of sled dogs. He began working and training with long-time Alaskan mushers Earl and Natalie Norris and ran his first Iditarod in 1980. Martin and wife Kathy Chapoton, a retired teacher, reside in Big Lake, Alaska, where the family owns and manages Happy Trails Kennel. Their sons, Nikolai and Rohn, both named after Iditarod checkpoints, have been involved with dogs at various times in their lives. Nikolai currently resides in Seattle. Rohn completed three Iditarods, his first Iditarod in 2008, as a senior in high school.
Martin was inducted into the Alaska Sports Hall of Fame this past April (2017).
Martin spends a great deal of time speaking in schools on the humanitarian care of animals and the spirit of the Iditarod. A favorite celebrity of the children of Alaska, Martin treats them with surprise visits from his dogs and puppies.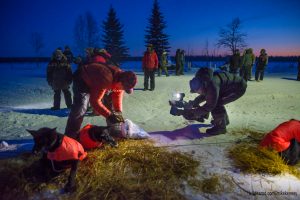 Martin runs the race each year with his dogs to test the success of their breeding, training and physical endurance. He regards his racers as true competitive athletes and prides his team on their longevity and spirit of competition. Says Martin, "I run the Iditarod to prove that my dogs, bred, trained and raced by Happy Trails Kennels, are the best amongst the world's long distance athletes." For nine years, Martin's 2002 team held the record for the Fastest Iditarod by completing the race in 8 days, 22 hours, 46 minutes and 2 seconds.  Read more about Martin by clicking here.
A fund raiser, free will offering,  for the son of Jeff Schultz, Ben Schultz, a fireman injured in an accident at work, was also held during this event honoring Martin.