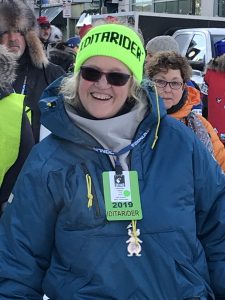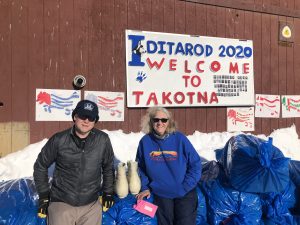 The Iditarod and the education community lost a most enthusiastic and energetic supporter when Susan Smith, principal/teacher in the village of Takotna, AK, passed away on August 11, 2021. Susan took her Iditarod passion to its maximum when she accepted that position and lived one of her dreams of teaching on the trail. Every chance she could, Susan would volunteer to support the Iditarod Trail Sled Dog Race in her own village and other places along the trail. 
Our 2021 Iditarod Teacher on the Trail™ Jim Deprez shares his memories of Susan:
"I don't exactly know how I first made a connection with Susan Smith. Maybe it was through Iditarod musher, Matthew Failor, of whom she owned one of his former dogs, Fire. Maybe it was through the Teacher on the Trail program, or just common Iditarod friends through Facebook. However it happened, I do know that she was a passionate advocate for the Iditarod and life in general. 
Her enthusiasm for the race led to my interview of her for a piece about volunteers. She had an incredible story to tell. You can read it here:  Voices of the Volunteers: Preview (Part 2) – Iditarod
During the 2021 race, Susan offered to work with me on a pen-pal project between our two classrooms. I had my students all write letters to hers, and they responded in turn. It was an eye-opening experience for my students in Ohio to hear how drastically different life was for their new friends in Takotna, AK. The culmination of the project was a Zoom session between our two classes, where the students virtually met "face to face". My students were amazed that Mrs. Smith's class only had six students, and that was the entire elementary school for the town.
Susan was a long-time checker at the Takotna checkpoint and always had her students become involved with the race as well. I feel that her warmth and welcoming spirit was one of the reasons that Takotna was one of the favored checkpoints amongst mushers and volunteers alike. 
She will be missed this year on the trail, but her passion for the Iditarod will be carried on for years to come through the students whose lives she touched both near and far. "
And 2018 Iditarod Teacher on the Trail, Heidi Sloan shares this:
"Susan was such an enthusiastic welcoming presence to the Iditarod mushers as they came into Takotna. She helped the students create a dog team snow sculpture in front of the school, worked as a checker as teams arrived, and decorated the dining room (where the famous Takotna pies are served) with student art work and writings about the Iditarod. I remember Kristy Berington bringing Susan a special bar of chocolate on her sled as she stopped in Takotna.  Susan made a point of making friends with many of the mushers, getting to know them and some of their dogs.
As a teacher and principal, she gave a great deal to the school and students. They conducted scientific experiments that studied their natural area and sent out moose drawings that were like Flat Stanley to classes in the lower 48. Those of us who participated were asked to have our students write journals of our daily lives in school so the students in Takotna could see our ways of life.
Personally, Susan let me sleep on the floor of the principal's office while in Takotna so I had some privacy.
She was an inspiration to all of us: live life to the fullest and be adventurous!"