As regular as the leaves change color and days shorten in fall, mushers and teachers gather in Curtis, Michigan for the Musher Symposium and Teacher Conference organized by the owners of Nature's Kennel, Ed & Tasha Stielstra. Brent Sass, keynote presenter from Eureka, Alaska was complimented by a host of other experts in the world of sled dogs and teachers who use Iditarod as a theme for education in their classrooms. Fashion photographer and photo essayist, Albert Lewis delighted listeners with his experiences in photographing the athletes of Iditarod for Born to Run. 
Brent Sass, a seasoned veteran of both the Iditarod and Quest carries another distinction. He's been a participant on National Geographic Channel's Ultimate Survival Alaska Show. His Boy Scout days back in Excelsior, Minnesota taught him to "always be prepared" and the thousands of miles he's spent with his dog team in some of the most beautiful, remote and challenging places on earth have taught him valuable lessons on how to survive and thrive in the wilderness. Sass, a dynamic and energetic speaker, was one of eight participants on Ultimate Survival Alaska; all considered to be the best survivalists Alaska had to offer. Brent provided listeners at the Friday pre-symposium event with the inside scoop and behind the scenes details of his survival show experiences.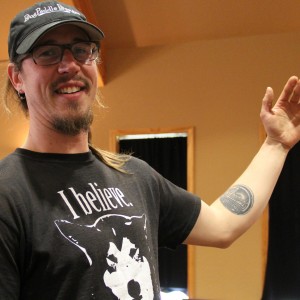 Sass was on stage again to conclude the conference. In this presentation, Brent shared a bit of himself and how Wild and Free Mushing came to be. Brent and his family, sixty sled dogs and one cat, live in remote Eureka, Alaska and he wouldn't have it any other way. As a matter of fact when it comes time for a vacation in April, he moves himself, his dogs and Kenevel, the cat, 350 miles north of Fairbanks to the base of the Brooks Range. The family lives there to train and enjoy the unparalleled beauty of the Arctic. Sass has taken what he loves to do – spend time with and mush his dogs – and turned it into a remarkable expedition business. Brent conducts, guides and supplies a ten-day expedition as a culminating experience for a Norwegian Mushing School.
How did the kid who grew up in Minnesota let his life go to the dogs? Sass chose to attend the University of Alaska – Fairbanks. His passion at that time was Nordic skiing. Out on his skies, he met a team of sled dogs. It didn't take long for him to realize that dogs could move him further into the vast Alaskan wilderness than his skies could. During the summers, Sass worked construction. He advertised for work and as fate would have it was contacted by the owners of Trail Breaker Kennel, David Monson and Susan Butcher. As Brent worked at rebuilding the physical features of their kennel, Monson and Butcher recognized his passion for dogs and soon asked him if he ever wanted to race. Brent began running and training the Trail Breaker dogs. After each run, he sat down with Susan and talked it over. He was coached by and learned from one of the greatest. 
There's a saying out there on the Quest Trail, "If you're going to break down or need help, do it when Brent Sass is behind you" and that always seems to happen on Eagle Summit. While climbing to the top of the Quest world, Sass has given aide to more than one fellow competitor who was in dire straights. One year it was a musher with a prosthetic leg. Sass came upon the stranded musher and team, took his own team to the top then returned on foot and led the other team to the top. One year he gave aid to a hypothermic Hans Gott. Brent would probably scoff at the title of Good Samaritan because on the trail, that's just what you do, help others in need but he has won SIX sportsmanship awards.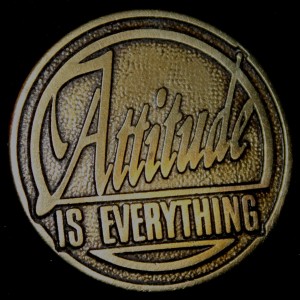 Tattooed on Brent's left forearm is some pretty good advice – ATTITUDE is EVERYTHING. Some time ago a fellow who'd carried it for some thirty years gave him a medal with the mantra. Knowing his uncanny ability to lose things, Brent drilled a hole in the disk, placed it on a chain to wear as a necklace. While he didn't lose it, the medal got in the way. That's when he decided to have the catchphrase made into a very permanent tattoo. During the Iditarod and Quest, when a reminder about the importance of a positive attitude might be useful, Sass probably never sees the bare skin of his forearm but he's internalized the concept. Attitude IS everything. Attitudes are contagious. Is your attitude worth catching or is your attitude like a bad cold or the flu that nobody wants to catch?" Sass lives the mantra. He welcomes challenge and knows that the difference between an adventure and an ordeal is wrapped up in his attitude.
Brent says that he has many goals and adds to the long list daily. In his life as a musher he aspires to win both the Iditarod and the Yukon Quest. As of now, Sass has committed to running the 2014 Quest where he's finished in the top ten six times in seven runs, capturing 3rd place in 2013. He has yet to break into the top ten in the Iditarod but claimed the honor of Rookie of the Year on 2012. Word from Brent is that he'll focus on capturing the Quest and then focus on Iditarod. Good luck Brent and thanks for sharing your inspiring stories.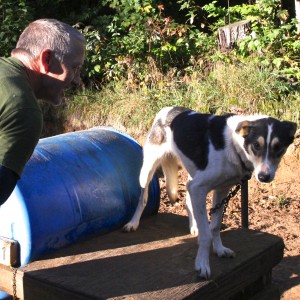 Photo essayist, Albert Lewis went to the Ceremonial Start of Iditarod XL. From that experience he was moved to author Born to Run: Athletes of the Iditarod. Lewis had many years of experience in the field of fashion photography with big name companies, Neiman Marcus, Nordstrom, Target and The North Face to name a few. He aspired to create a book set apart from all the other available books about sled dogs and mushing. He chose to create a sort of fashion statement about the greatest athletes on earth. Was it a stretch to seek and present the fashionable side of the dog that's so well known for its function? 
To capture the photos necessary for this amazing coffee table chronicle that's a must for mushing enthusiasts and dog lovers, Lewis set out on a grueling photo expedition. He contacted mushers, made appointments then shot for 25 days, capturing images of 360 dogs, traveling 4,800 miles between 36 kennels and then he'd spend twenty hours editing a day's worth of canine images. All this he did with the intent of capturing and revealing the personality and athleticism of the sled dog. Albert said all of the dogs were lovable but specifically he'd ask mushers to choose dogs that had interesting facial features, were famous or of interesting character and were well behaved who might ham it up a bit posing for the camera. 
Many thanks to Brent and Albert for sharing their passion for sled dogs at the Midwest Musher Symposium and Teacher's Conference.