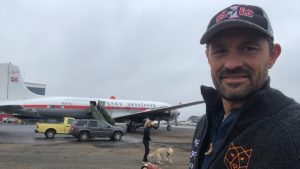 Thomas Waerner has had a long journey to the Iditarod 2020 and an even longer journey home. It has been two and a half months since the champion finished the Iditarod, now he and his team are finally home. It really all comes down to being in the right place at the right time.
Due to COVID-19 Thomas ended up being stuck in Alaska with a full dog team. He couldn't fly directly to Norway because of the COVID-19 restrictions and a non-direct flight would be logistically impossible for him and his team of dogs. By chance, a museum in Norway was looking to purchase the vintage DC-6B aircraft that happened to be located in Fairbanks, Alaska and owned by Everts Air. Thomas and his team had been staying in the Fairbanks area with friends during the quarantine and somehow this all came together.
The purchase was a go and they even got a new paint job before the trip. Thomas packed up his dog team plus a few dogs from fellow Norweign musher, Tom Frode Johansen. With 25 dogs on board the flight and crew left Fairbanks early morning on June 1. They were able to get out and walk the dogs during their quick fuel stop in Yellowknife, NT, Canada. 
After over 20 hrs of flight time, Thomas, dogs, and the crew touched down in Norway June 2, 3:25 p.m. local time. They were greeted by reporters, fans, and mushing team sponsor Qrill Pet. Local news Oppland Arbeiderblad aired live coverage of the arrival and the link to replay the video is below. The vintage DC-6B will rest at its new home at Flyhistorisk Museum Sola.
Video by Mikey McBryan
Other resources following Thomas' journey:
DC-6B Aircraft Facebook Group
If you are interested in following the history of the vintage DC-6B aircraft and read more about Thomas' trip, those interested can join the Facebook group named DC-6B N151 (LN-SUB) Ferryflight Group. 
Replay the flight tracking via FlightAware online.
Qrill Pet Mushing Team Facebook Page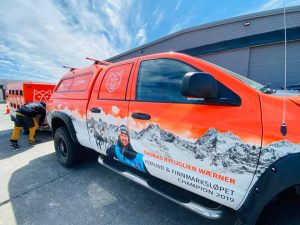 Follow Thomas Warner and the Qrill Pet Mushing Team which also includes mushers Marit Beate Kasin, Joar Leifseth Ulsom, Dallas Seavey, and Hanna Lyrek. You'll find more photos and video of Thomas' mushing season.
Oppland Arbeiderblad News Video Coverage
Video coverage highlights: (approx. time marks. All in Norwegian except interview with the pilots, no subtitles.)
17 min mark plan landing
32 min mark unboarding starts
46 min mark interview with the pilots (in English) about the history of the DC-6B.