Natalie Norris passed away on August 28, 2016 in her home in Willow, Alaska.
Born in Lake Placid on Jan. 24, 1922, to John Chester and Edgarita Jubin, Natalie demonstrated her passion for sled dogs at an early age. One of her first memories was watching Jacques Suzanne drive his dogs past her house on Mirror Lake. As a 6-year-old child, she befriended a stray dog and taught him how to "gee" and "haw" around the puddles and rocks on the village streets. By 13, Natalie was racing a five-dog team in a snowstorm in the Adirondacks. While other dog drivers got lost or didn't finished the race, Natalie casually crossed the finish line. She had shown stamina and perseverance that would be one of her lifetime hallmarks. At 15, she acquired her own team of malamutes from Dr. d'Avignon's kennel.
In 1939, Natalie sold five of her dogs to the United States Antarctic Service Expedition, 1939-1941, under the command of Admiral Byrd, and when the U.S. military recruited sled dogs to be trained for rescuing soldiers during World War II, she sold many of her dogs to the Army.
After graduating from Syracuse University, Natalie set her sights on Alaska. She travelled by train cross-country with seven malamutes and two Siberian huskies to Seattle, where they boarded a ship sailing the outside passage to Seward. Arriving in Anchorage in June 1946, Natalie was met by Earl Norris, who had offered to board her dogs at his homestead. A match made in heaven, Earl and Natalie married a year later,
While Earl had co-founded the Fur Rendezvous World Championship Sled Dog Race in 1946, Natalie was the first woman to run it in 1947. Two years later she ran the race again, coming in second. When the Norrises decided to focus on breeding registered Siberian huskies based on the dog's performance in harness, they laid the foundations of the now world-famous Alaskans of Anadyr Siberian husky kennel. Earl and Natalie continued their enthusiasm for breeding and racing sled dogs and were influential in forming the Alaska Sled Dog Racing Association and the Siberian Husky Club of Anchorage. In the 1950s, Natalie became a judge for the American Kennel Club and later travelled the world observing thousands of dogs at various dog shows. In the 1970s Natalie won the Women's North American Championship in Fairbanks, Alaska.
As the city of Anchorage grew, the Norrises moved to Willow, Alaska. Although the Siberian husky was the mainstay of the Anadyr kennels, Natalie continued to own Alaskan malamutes, the breed she began with in Lake Placid. Always a gracious and willing mentor, Natalie helped many young people interested in mushing. She also shared her knowledge about the malamute and Siberian husky by authoring many articles in local, national and international journals and magazines.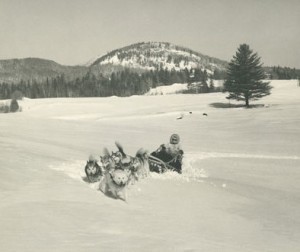 Natalie was preceded in her death by her husband Earl, her brother Jack and her sister Dorothy.
She is survived by her brother Arthur Jubin of Lake Placid; sons John Paul and Theodore of Willow; daughter Edgarita of Louisville, Kentucky; several grandchildren; and many dogs.
One of Natalie's fondest activities was having a spring picnic with friends and their dog teams at the end of the winter season. The yearly picnic in Willow will be dedicated in the spring of 2017 in her honour and to her memory.
http://www.adirondackdailyenterprise.com/page/content.detail/id/565262/
Ready more about Natalie, including information from her granddaughter, Lisbet, at this link:  http://www.alaskapublic.org/2016/09/01/pioneering-musher-and-husky-breeder-natalie-norris-dead-at-94/  
(You are leaving Iditarod's website and Iditarod is not responsible for content you may view at this site.)