The countdown to our drawing has begun and time is running out to purchase a Summer Raffle Ticket.  It's important you call right away and make your purchase.  We often sell out of tickets around the start of the State Fair.  If you are waiting to get your ticket until fair week or when you are at the fair, you might miss your opportunity.  Hurry! Don't delay.  Make your purchase today.  Thank you!
Call now.

1800.545.6874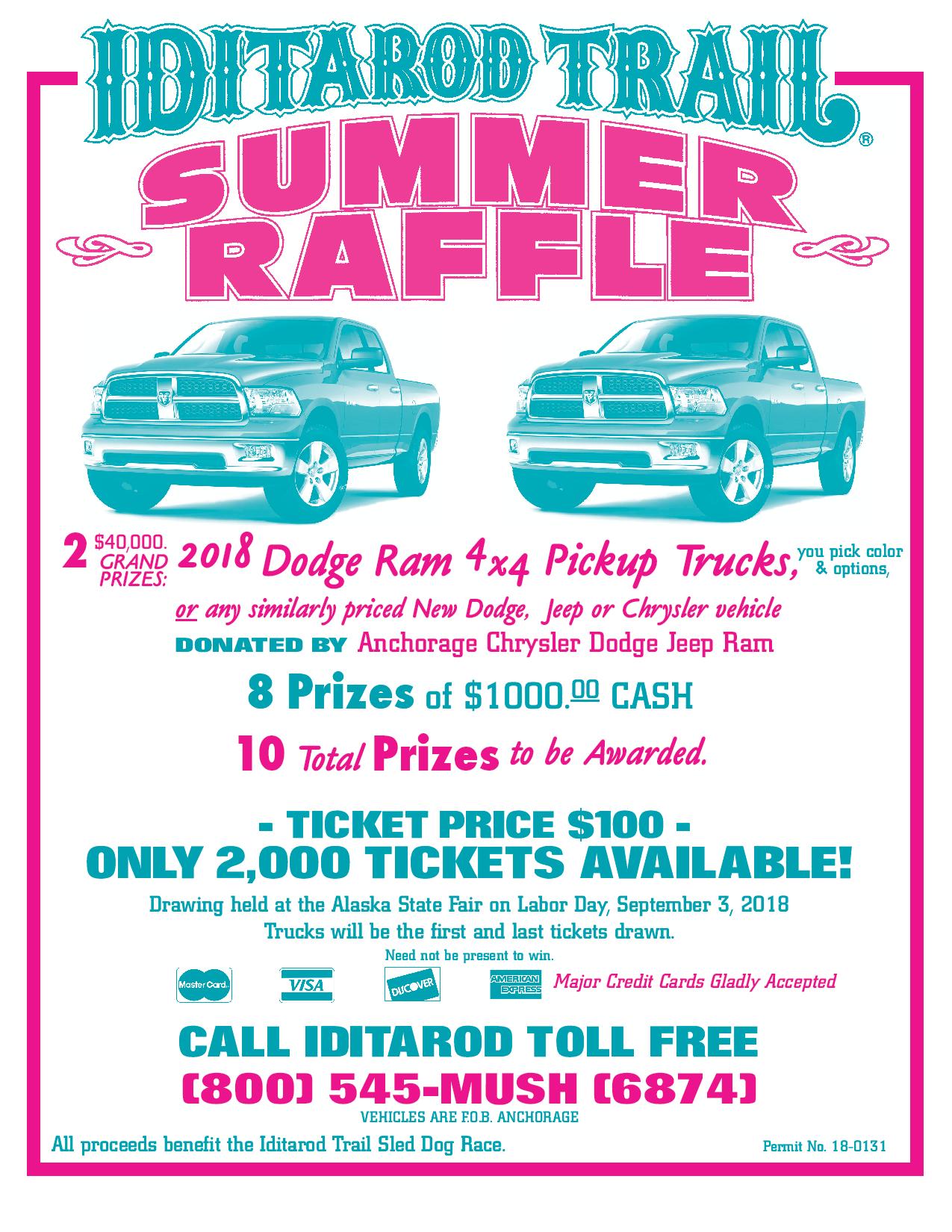 *The Iditarod holds two raffles each year, one before the race (Winter Raffle) and one afterwards. (Summer Raffle)

*The funds raised from the raffle are used to help stage the Iditarod. Need not be present to win.
*To purchase a ticket call 1.800.545.mush(6874) or stop by our store at Iditarod Headquarters in Wasilla.  Due to the inability to man phones 24 hours a day and the fact that you may not be in the same time zone as our office in Alaska, please leave a message if your call is not answered.  We'll call you back!
*Thank you to those of you who have already purchased a raffle ticket.  We appreciate your support of the Last Great Race on Earth®.  We also want to apologize if you receive raffle notifications after your purchase.  We are unable to remove those who have already purchased tickets from our race fan email list.  Once again, thanks so much for your ticket purchase.  Good luck!  The drawing is September 3.
* We guarantee that your purchased ticket makes its way into the drum for the drawing.  The CPA firm of Newhouse and Vogler, of Anchorage, Alaska, conducts a pre-drawing audit and observes the raffle process.  This audit ensures all tickets sold are in the drum prior to the drawing.
Thanks for your support!