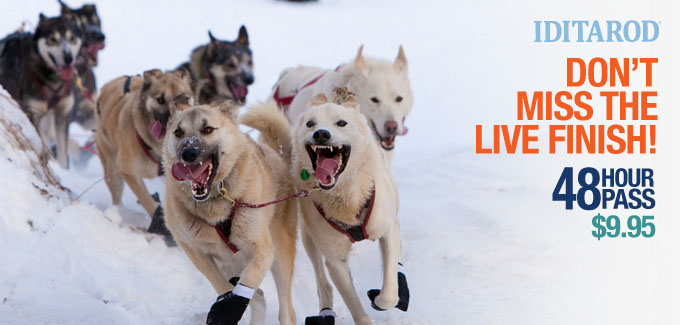 Aliy? Jeff? Dallas? Mitch? It's so close. They're all at White Mountain and ready to roll., Anything can happen.
The Iditarod Insider is offering a 48 Hour Pass to see the exciting finish. As an Video Insider, you'll have access to the Live Finish and all the video content for just $9.95.
Here's how it works: Starting Monday March 10th at 8AM AKST/12PM EST, you'll have Video Insider access to the site which will run 48 hours until Wednesday March 13th.
We guarantee you will see the live Iditarod 42 Champion's show with the champion crossing under the arch, even if it's past your 48 hour window!
So, take advantage of our 48 Hour Pass and see the exciting finish of Iditarod 42.
Support the Iditarod and buy an Insider pass!
Due to your support the pass is sold out. Thanks Fans!