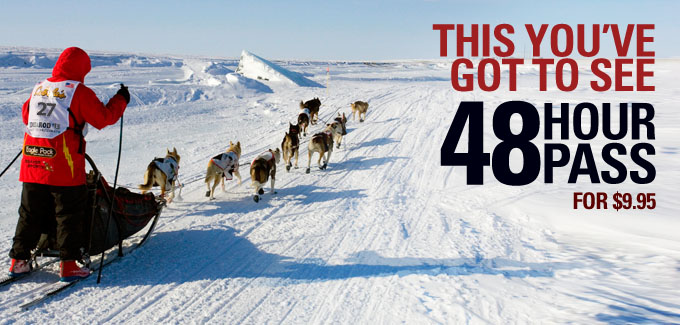 Aliy Zirkle? Martin Buser? Mitch Seavey? It's a close race. With a few days to go, anything can happen.
For the first time ever, the Insider team is offering a 48 Hour Pass to see the exciting finish. As a 48 Hour Pass Video Insider, you'll have access to the Live Finish and all the video content for just $9.95.
Here's how it works:
Starting Monday March 11th at 8AM Alaska, you'll have Video Insider access to the site which will run until 8AM Alaska (12:00PM EST) on Wednesday March 13th.
Access began at 8AM Alaska (12:00PM EST)
To access videos simply login and go to the videos page.
The live finish will be available when the stream is activated when the finishers are closing in on Nome at http://iditarod.com/live-finish/
It looks like we'll see the winner cross the Arch on Tuesday, and by the looks of it, it's going to be close.
So, take advantage of our 48 Hour Pass and see the exciting finish of Iditarod 41.
We hope you enjoy this package as much as we do! 

If you are a Video Insider or Ultimate Insider you already receive this great content as part of your subscription. GPS is not included in the subscription.