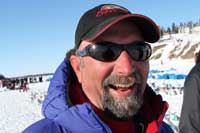 Teams were rolling into the Takotna checkpoint all night as the front runners hit this section of the Iditarod trail. Most have decided to declare their 24 hour layover here as this checkpoint is in an ideal location to benefit from a long rest.
The teams have just come off of a long push from the starting line and run over the Alaska Range. Trail conditions over the last 75 miles have been soft due to the new snow so the dogs are ready for a little rest. Also from this point there is a long run looming over the horizon.  The teams move on to Cripple with once again a fresh layer of snow. Putting a little fuel in the tank to prepare for this run has been proven to be a good idea.
I will say that there were an amazing amount of perky fresh looking teams pulling in here last night. With that said, of notice were Aliy Zirkle's, Mitch Seavey's, Jeff King's, Aaron Burmeister's and Dallas Seavey's teams.  It's way too early to know who really is driving the best teams yet but these teams looked the freshest at this point in the race. Every team will have ups and downs due to a race of this length but these little details often reveal which teams are getting stronger as they move down the trail. Mushers reported soft trail conditions on the run over here which slowed them a bit and the same is predicted for the run up to Ophir and on to Cripple which most teams here will make in one push. What is really wonderful to see at this point in the race is the amazing number of really top quality dog teams.  This is one of the the best fields of mushers ever to compete in this race.   If you look at the top 15 mushers in here there is an incredible number of winners of past races, not just in the Iditarod but in sled dog races around the world. It really is a collection of the best of the best here this year and the great condition of these canine athletes reflects this.  Not only are the dogs happy and many barking and trying keep going when the mushers pulled into this checkpoint but also look at how many teams are running large strings and many the full line of dogs they started the race with a few days ago.