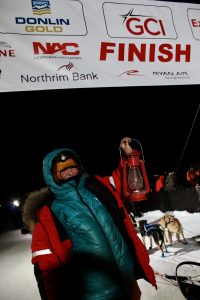 Veteran Iditarod musher Victoria Hardwick (bib #48), of Bethel, Alaska, is the final musher to cross the finish line in Deshka Landing at 12:22 a.m. today, claiming the Red Lantern Award.
Hardwick and her race team completed the Iditarod in 10 days, 9 hours, 22 minutes and 6 seconds. She finishes in 36th place, just two seconds behind rookie Dakota Schlosser who finished 35th. Hardwick had 10 dogs in harness when she arrived at the finish line. This is Hardwick's second time earning the Red Lantern Award, last doing so in 2019.
The Red Lantern Award acts as a symbol of perseverance for the Iditarod. According to historians, awarding the red lantern for the last-place finisher has become an Alaska tradition in sled dog racing. The award honors the final musher's perseverance in not giving up, making the decision to fulfill their team's purpose.
In a race field that began with 46 mushers leaving the starting line at Deshka Landing and traveling out to the Iditarod checkpoint before traversing back through the Dalzell Gorge, Hardwick was the 36th and final musher to complete Iditarod 49. The final musher also has the duty of extinguishing the famed Widow's Lamp and Red Lantern, which comes from an old roadhouse tradition.
The Red Lantern Award will be presented to Hardwick at a later date. In addition to the Red Lantern, Jon and Jona Van Zyle will be honoring the perseverance of the Red Lantern winner by awarding an original framed 5"x 7" painting by official Iditarod artist and 2 -time Iditarod finisher Jon Van Zyle.