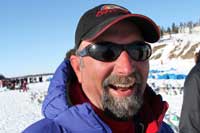 With the start of the Iditarod 2012 just over the horizon, I'm already being asked the question, "Who will most likely win this year's race?  Recent Iditarod history tells us the winner is likely within last year's top 10 finishers.  Seven out of those top ten are returning to this years Iditarod,  John Baker, Ramey Smyth, Dallas Seavey, Hugh Neff, Ray Redington, Peter Kaiser and Ken Anderson.   Add to this list four time champion Lance Mackey, Jeff King, returning after a year off, four time champion Martin Buser and past champion Mitch Seavey who had to drop out of last year's race due to a severe cut to his hand and you already have a highly competitive field.  Let's remember that last year John Baker broke the long standing record for the fastest time to Nome as did second place finisher, Ramey Smyth.  Those two teams, even with their fast pace were two of the strongest teams I've ever seen running up the coast to Nome.  There is no doubt that both of these teams will be just as strong this year.  
 Another clue to some of the stronger teams leading up to this year's Iditarod is to review early season races.  This often is an indication of the strength of the team that mushers will bring to the Iditarod in any given year.   It is common to see teams that do well in the preliminary races to do well or win the Iditarod.
 The second largest long distance race in the world, the Yukon Quest, just ended and seven of those mushers will turn around and race down the Iditarod trail as well.  Among them will be this years Yukon Quest champion Hugh Neff who finished 5th in last years Iditarod.  Also racing the Iditarod from the Quest will be Sonny Lindner, Lance Mackay, Trent Herbst, Kristy Berington and Iditarod rookies Brent Sass and Jake Berkowitz.   Dogs and mushers tend to get trail hardened and to sharpen their travel skills coming off of these races right before the Iditarod.  Dogs seem to get stronger, especially in years like this one where trail conditions on the Quest were near perfect and the weather was mild.  Lance Mackey proved  in 2007 and 2008 that it is possible to win both the Yukon Quest and the Iditarod in the same year.
Also just completed was a new race, the Paul Johnson Memorial Norton Sound 450 Sled Dog Race.
It was won by Peter Kaiser who finished 8th in last years Iditarod.  Michelle Phillips from Tagish, Yukon Territory also ran that race and will be running the Iditarod.  
Iditarod fans need to take notice of Peter Kaiser.  Not only did he win the inaugural Norton Sound 450 but also last spring he won the Kobuk 440 showing that he knows how to win a race.  Being in the 2011 Iditarod top 10 means he has the knowledge to compete for an Iditarod championship.  He is definitely knocking at the door as the saying goes.
Often teams that compete well in Kusko 300 sled dog race have a strong showing in the Iditarod.  This year's Kusko 300 was won by Rohn Buser who will be running only his 2nd Iditarod this year but he has been running sled dogs his entire life.  It is also worth mentioning that Rohn beat last years Iditarod champion John Baker and top Iditarod contender Paul Gebhart to win the Kusko 300.  Other mushers entered in this year's Iditarod that finished near the top in the Kusko 300 are Lance Mackey and Ramey Smyth.
Cross reference last years top 10 teams and look at the top finishers in this years early seasons races and you most likely have the pool of mushers from which  the 2012 Iditarod champion will come.
Of course there are always other factors that determine how teams do in any Iditarod.  Luck always plays a part.  The saying amongst mushers is "no bad luck is good luck" .  There is always the dark horse that could pull off a surprise.  A major factor in any Iditarod is the Alaskan weather which can turn any race on it's head.  For those not living in Alaska, this winter has been one of extreme conditions.  Weeks of sub zero temperatures has effected some mushers training schedules.  A tremendous amount of snow has fallen on large parts of the state as well.  If strong winds occur during the race and that snow starts blowing around it will be nearly impossible to keep the trail open in many locations. Mushers will have to use their outdoor skills and have strong lead dogs to negotiate that type of conditions.  Those with the best cross country trained leaders might get to Nome first.
So as you can see, there are many factors that could determine who will be this year's champion. Luck, weather, lead dogs, individual strategies, they will all be played out during the race along a 1000 miles of trail.  It's fun to speculate on but nearly impossible to determine now.  The answer will lie in Nome.