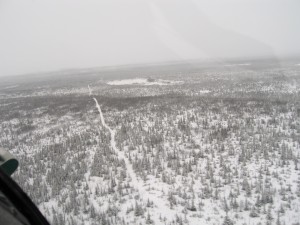 There is so much to share with you about the village of Nikolai, there isn't enough time or space to tell you about the trail between the two checkpoints. With the stories, pictures Handler has and what I've discovered about the trail from the Bower's Trail Notes in Iditarod's Guide to the Last Great Race, there's reason to have a special story to tell you a little more about this part of the trail.
The trail between Rohn and Nikolai is beautiful and challenging. During the clear, cold daytime the mushers and dogs can see Denali and Mt. Foraker in the northeast. Try to imagine how beautiful these peaks are around sunrise and sunset when they are still brightly lit by the sun over the dark landscape below. On the other hand, challenges include areas of glare ice, overflow, open water, wind and lack of snow. I had to ask what overflow was. Handler explained that it's water that sits on top of frozen ice. How does it get there? It comes up through cracks in the ice or around the edges. You know, I've done a few open water crossings – just little steams and it's not so bad. We have to change booties pretty soon afterward.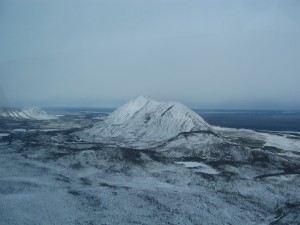 Egypt Mountain is a stand alone peak that's about 3,000 feet tall. The teams run low along the shoulder of this mountain as they head from Rohn toward Farewell Lake. This is where the buffalo live. Buffalo? I thought handler was making this up! Back in 1965, eighteen of the big brown beasts were moved from Canada and then a few years later another 20 were added to the herd. Now there are 200 to 300 bison that graze in the burn area. They aren't a problem for Iditarod teams but they are curious. There are stories about mushers who decide to pull over to rest with their teams and wake up to a buffalo kissing their cheek. Now who would believe this but Don Bowers, Jr. speaks the truth in his Trail Notes!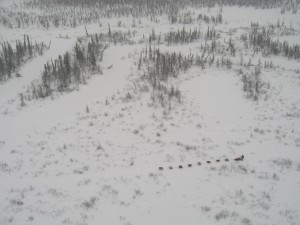 The Farewell Burn is exactly what its name implies. During the summer of 1978, one and a half million acres burned in Alaska's largest ever forest fire. Forty miles of Iditarod Trail runs through the burned area. After the fire, the trail was covered with snags and downed trees, so for several years it was very tough sledding but in 1984 a 25 foot wide trail was cleared through the burn by the Bureau of Land Management (BLM). If there is good snow, this can be a great section of trail – without snow, it's still tough sledding.
In the Burn, about 40 miles from Nikolai, the teams will come upon a tent camp complete with people and snowmachines. This is the Buffalo Camp. Teams are welcome to stop to rest and have some stew. The hunters sure helped Paul Gebhardt out in 2006 when he lost his team. Paul told Handler his story while they were eating Cheeseburgers and Fries at the Nikolai Community Center.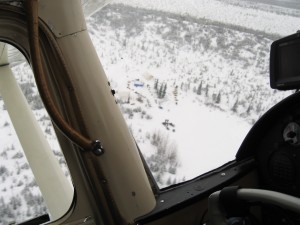 Gebhardt was coming into the burn when his sled hit a tree and the gangline snapped. The team kept going leaving Paul standing on the runners of a motionless sled. Paul yelled at his leaders to stop but they didn't so he began to run after the team. He got hot so he took off his anorak and tossed it beside the trail – he kept running. Next he took off his coat and tossed it beside the trail – he kept jogging. Next he took off his insulated pants and tossed them beside the trail – he kept walking. Paul was in the lead when he lost his team. Doug Swingley, not too far behind, came upon the abandoned sled. He saw Paul's footprints going down the trail and the anorak, coat and pants laying beside the trail. He knew what had happened. Pretty soon Doug caught up with Paul and gave him a ride to the Buffalo Camp. Paul borrowed a snowmachine from the hunters and finally caught up with his team a couple of miles down the trail. Gebhardt tied his team off and then raced back to his sled, picking up his anorak, coat and pants on the way. He towed his sled up to the Buffalo Camp, picked up a hunter then went on up the trail to where his team was tied off. The hunter returned to camp with the snowmachine. Paul replaced his gangline and continued down the trail, now in second place.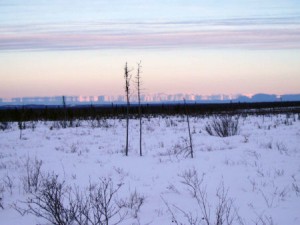 I've heard about the rule that mushers can't receive outside assistance on the trial. Do you think Paul was penalized for riding on Doug's sled or using a snowmachine to recover his team? The rules allow a musher to use any means available to recover a team. The Race Marshall said that Gebhardt didn't gain any time or advantage in using these options to recover his team so there was no penalty. Lucky for Paul that the Buffalo Camp was so close and lucky that mushers are really Good Samaritans and willing to help each other out.
Well, there you have it – some stories, history and information about the trail between Rohn and Nikolai.  Thanks to Robert Bundtzen for sharing the wonderful mirage picture.  From Nikolai, the teams move on to McGrath. Stay tuned for that story and remember – in everything do your best every day and have a plan.
Born to Run,
Sanka