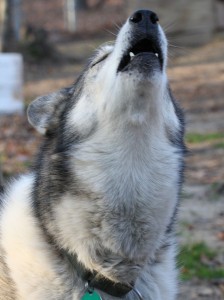 About the time that school started this fall, Handler came into the dog lot and said, "Hey big dogs, I started the 1049 mile virtual trail bike ride today. Do you want to hear about Anchorage and the Ceremonial Start?" We answered, "YES" with a load and enthusiastic howl. Handler sat on the roof of my doghouse and this is what she told us.
On the first Saturday morning of March, Iditarod begins at 10:00 in Anchorage with a Ceremonial Start. The Ceremonial Start gives newspaper and television reporters along with Iditariders, sponsors and spectators a chance to get close to the mushers and dogs and to be where the action is. This all begins at 4th & "D" Street right in the middle of downtown Anchorage.
Here are answers to a couple of questions I had – Is it dark and Is there snow for the dogs to run on? The sun is up by around 8:00 in the morning and it stays light until almost 6:30 or 7:00 pm. About snow – whenever it snows in Anchorage, the snow is scooped up and hauled away to be stockpiled.. On the night before the race, workers truck tons and tons of snow into downtown to cover the streets and create a trail for Iditarod. Handler says it's amazing to have bare blacktop on Friday afternoon and then have snow covered streets on Saturday morning without even a flake of snow falling!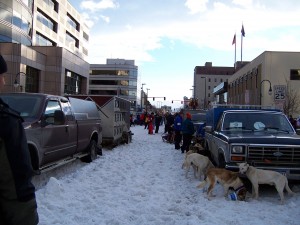 By early Saturday morning, the teams are all lined up on the side streets along 4th Avenue. Imagine having 80 teams – that's 80 trucks with 80 dog trailers, 2 sleds for every team and how many dogs would that be if each team can run 12 dogs – almost 1000! A few hundred volunteers help to keep things organized. Each team has 14 handlers who help the musher bring the team to the starting line. The teams start at two-minute intervals. Every musher and Iditarider are introduced and then their countdown begins, 5-4-3-2-1-GO! There are thousands of spectators who line the 11-mile route that eventually leaves the city streets and continues along the beautiful Anchorage trail system. In past years, the Ceremonial Leg of the race went 22 miles to Eagle River and was included in the recorded time but not anymore. Time doesn't start until the Restart at Willow.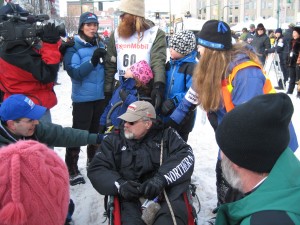 We all were curious about the Iditarider – what's that? Iditariders are people who bid in an auction to win a ride in a musher's sled for the 11-mile Ceremonial Start. Can you imagine riding 11 miles with Dee Dee Jonrowe, Jeff King, Martin Buser, Rick Swenson, Ed Stielstra or even a rookie musher? Wouldn't that be great? Handler got to be an Iditarider when she was Teacher on the Trail™. Her Idita-musher was Tollef Monson.  The money earned in the Iditarider Auction is used by the Iditarod Trail Committee to cover the expenses of the race.
I had a little free time after Lead Dog classes one day so I decided to check Wikipedia for some information about Anchorage. This is what I learned. Nearly 280,000 people live in Anchorage – it's the largest city in Alaska with 40% of the state's population. One might expect that Anchorage would be the capitol of Alaska – not so, it's Juneau. The Municipality of Anchorage is actually larger than the state of Rhode Island. Anchorage was founded in 1914.
You can't research Anchorage without finding info on a terrible natural disaster. On March 27 of 1964, the Good Friday Earthquake hit Anchorage. The 9.2 magnitude quake lasted about 5 minutes. Many people were killed and many buildings and roads were destroyed. It took many years to rebuild after the quake.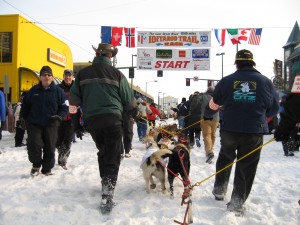 In March for the Ceremonial Start of Iditarod, spectators, mushers and dogs can expect the low temperature to be 18 and the high to be 34 degrees Fahrenheit. The coldest month of the year is January when the temperature ranges between 9 and 22 degrees. Average snowfall for the winter is 70 inches. The warmest month is July with lows in the 50's and highs in the 60's. Average yearly rainfall is just 16 inches.
Anchorage has very long summer days. During the summer, it never really gets dark. The sun comes up very early and sets very late leaving only a few hours of twilight instead of darkness. Daylight in winter is very short. There are active volcanoes near Anchorage. It's common to see moose in the city – they are a big hazard for drivers. There are black bears, a few grizzlies, wolves, beaver and fox that live in Anchorage. Except for the moose and grizzly bears, this sounds like Wisconsin.
How does Anchorage's temperature and precipitation compare to where you live? How about hours of daylight? What kinds of wildlife are common to where you live and Anchorage? Like I did, you can go to Wikipedia to learn more about the City of Anchorage and do many comparisons with where you live.
Well, there you have it – a little information about the Ceremonial Start of Iditarod and a little information about Anchorage, the city that hosts the event. Next, Handler is going to tell us about the Restart – stay tuned for that story and remember, in everything, do your best every day.
Born to Run,
Sanka