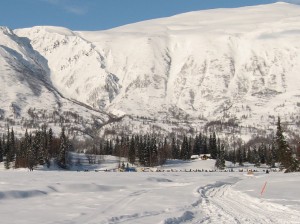 The distance from Skwentna to Finger Lake, population 2, is 45 miles. Roughly, it'll take four to six hours to cover the mostly uphill route but the trail isn't too tough. The teams will run across rivers, lakes, swamps and wooded areas. Like I did, with Handler's help, you can find out a lot about the trail from "Trail Notes" in Iditarod's Guide to the Last Great Race.
Finger Lake is a tent checkpoint that's located at the eastern edge of the Alaska Range in snow country. It's not unusual to have TEN FEET of snow on the ground! Lots of humans fly out to Finger Lake to watch the race. Kirsten and Karl Dixon who run Winter Lake Lodge provide hospitality for Iditarod spectators. Wait, I don't get this! How can Winter Lake Lodge be on Finger Lake? The real name of the lake is Winter Lake but the lake is shaped like a two-mile long finger so many old timers and for Iditarod, the checkpoint is known as Finger Lake.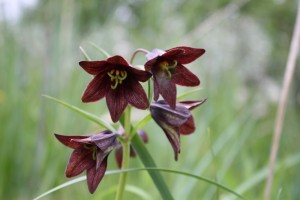 Winter Lake Lodge is a luxury summer lodge. Folks go there for wellness, cooking classes, hiking, fishing, kayaking, rafting, mountain biking and dog mushing. There are lots of birds, flowers and berries that are rare to other places. Have you ever seen a Chocolate Lily? They are found at Finger Lake but not during Iditarod.
Action picks up at Finger Lake/Winter Lake Lodge early on the second day of the race and because it's early in the race, the action is intense. Teams arrive in a steady stream, one right after the other. Most teams stay and rest during the "heat of the day." Mushers have to carry enough food with them from Skwentna to feed their dogs at Finger Lake, as there are no musher bags flown out to Finger Lake. Dogs are very happy to eat a tasty meal and then snooze while the temperature tops out in the early afternoon.
It's important to leave Finger Lake by 15:00 military time to have enough daylight to cover the very difficult parts of the trail to the next checkpoint at Rainy Pass Lodge.
Well, there you have it – a little information about Finger Lake Checkpoint, Winter Lake Lodge and the trail from Skwentna. Next, Handler is going to tell us about the Happy River Steps, Puntilla Lake and the checkpoint at Rainy Pass Lodge. Stay tuned for that story and remember, in everything do your best everyday and have a plan.
Born to Run,
Sanka