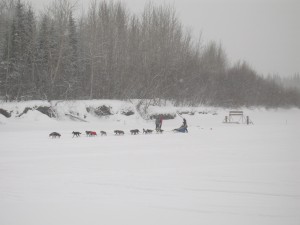 As if coming over the Alaska Range wasn't exciting enough, being in the interior is really exciting! The first Native Alaskan Village that the Iditarod passes through is Nikolai. It is an Athabascan Village, population 100, situated on the south fork of the Kuskowim River. During the gold rush a trading post and roadhouse were located here on the Rainy Pass Trail that connected the Ophir Gold Mining District to Cook Inlet. Today, the village has a store, a school, a community center, a church, a post office, a health clinic, a washeteria and an air strip. The village has a piped sewer system while most of the 50 houses in Nikolai have their own wells for water. Electricity is supplied by Nikolai Power & Light. People, supplies and mail get to and from Nikolai by either air or water except during Iditarod when dog teams and snowmachines are plentiful.
Summer temperatures in the interior range from 42 to 80 degrees but in the winter it can get mighty cold with temperatures ranging between 62 below and zero degrees. They have about 16 inches of precipitation each year including about six feet of snow. The Kuskokwim river is usually open from June through October for boat and barge traffic.
People who live in Nikolai heat their homes with wood. They have a subsistence life style meaning that they grow their own vegetables; pick berries; hunt caribou, moose and rabbit and fish for Salmon to put food on their tables. Some folks earn a little extra money by trapping and selling handicrafts. In the summer many folks work construction.
Handler says the school is nice. It has a media center, gymnasium, locker rooms, kitchen and two classrooms – one for the kindergarten thru sixth graders and one for the seventh thru twelfth graders. During the race, the students are on vacation and the mushers can get food from the school kitchen, sleep in the gymnasium and shower in the locker rooms. The media folks use the internet in the media center to send their stories.
One afternoon I had some time after lead dog training to do a little research on the Native Alaskans called Athabaskans. I borrowed a little book called Alaska's History by Harry Ritter and you won't believe what I learned! Wisconsin, where I live, is situated in the Great Lakes Region and was once populated by Native American Indians. As it turns out, there are MANY similarities between the two groups. Years ago in their traditional cultures, they both used bows and arrows for hunting; they both wore fringed and beautifully beaded buckskin clothing and they both used utensils and canoes made of birch bark. Can you think of why this might be?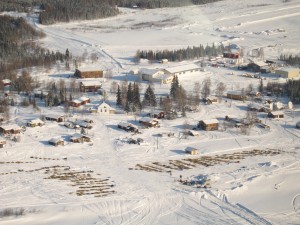 Many years ago before modern times, the Athabascans lead a nomadic life – they went where their food was. In the summer they lived in tents by the rivers to catch salmon. In the fall they moved to hunt moose and caribou. In the winter they lived in earth sheltered dwellings. Mr. Ritter said the Athabaskans were famous for their strength, resourcefulness and stamina. All Alaska Natives are spiritual people and have great respect for the land, water and creatures of nature.
I could tell that Handler really liked Nikolai – the villagers, students and teachers were so very friendly. While eating at the Community Center, the villagers told stories about their childhood and their ancestors and the mushers told stories about their experiences in the Farewell Burn. The menu at the Community Center was very familiar – cheese burgers and french fries for lunch and supper – eggs, bacon and hash browns for breakfast. Many of the villagers, adults and children, gathered at the checkpoint and community center to socialize, meet the mushers and see the dogs teams.
Well there you have it – a glimpse of what life is like in Nikolai today and a little historical information about the Athabascan way of life years and years ago. By the way, Martin Buser named one of his sons Nikolai and the other Rohn – how cool is that to be named after a village or checkpoint on the Iditarod Trail! Next Handler is going to tell us about the trail between Rohn and Nikolai. Stay tuned for that story and remember – in everything do your best everyday and have a plan.
Born to Run,
Sanka