The distance from Finger Lake to Rainy Pass Checkpoint is about 30 miles with some really tough spots along the way. It's beneficial for mushers and dogs to take a good rest at Finger Lake before heading to the Rainy Pass checkpoint on Puntilla Lake, a run of three to five hours. From Finger Lake the trail climbs into the Mountains of the Alaska Range.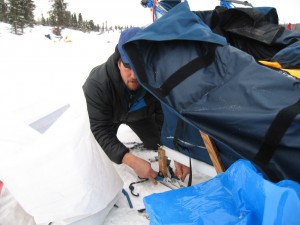 It's the Happy River steps that are equally challenging for veteran and rookie mushers. This part of the trail is very steep as it runs down to the Happy River through many hairpin turns and switchbacks. Most Iditarod mushers can tell stories about their experiences on the dreaded steps.
In 2006, one of my musher friends, K2 broke the brake on his sled coming down the steps. He was riding the brake to control the sled when it caught on something and snapped. It's amazing that he made it to Rainy Pass Checkpoint without being able to use his brake. Once he got to Rainy, he went to work to fix the brake before going on. Good Job K2!
And then in 2007, it was unusually icy coming off the steps onto the Happy River. Really experienced humans like DeeDee Jonrowe, Doug Swingley and a few others had to scratch at Rainy Pass Checkpoint after crashing. DeeDee broke her hand and Doug broke some ribs. The dogs love that part of the trail but the humans are very happy to get through in one piece.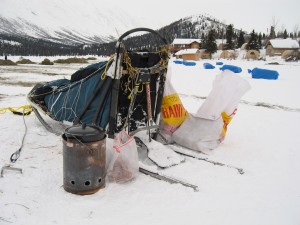 Rainy Pass Checkpoint on Puntilla Lake is at 1,800 feet elevation. The checkpoint is located at Rainy Pass Lodge that is run by the Perrins Family, Steve and Denise along with their five sons. Humans come to the lodge to hunt Dall Sheep, Caribou, Moose and Bear – black and grizzly. In the summer, the lodge offers horseback trips, fishing and awesome scenery. Being in the Alaska Range, humans travel to the lodge by plane, snowmachine or dog team.
Well there you have it – some information about Rainy Pass Checkpoint, Rainy Pass Lodge and the treacherous trail from Finger to Rainy. Next the mushers will be heading over the highest point on the Iditarod trail on the way to Rohn. Officially, once the mushers reach Rainy Pass, elevation 3160 feet, and begin to head down the other side of the Alaska Range, they are in the Interior of Alaska. Stay tuned for that story and remember, in everything do your best everyday and have a plan.
Born to Run,
Sanka