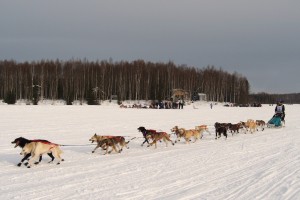 The distance from the Willow restart to the first checkpoint, Yentna Station is 42 miles. These are easy miles for the mushers and dog teams as most are on frozen rivers or well traveled snowmachine trails. Most of the traffic at Yentna Station goes straight on through, stopping just long enough to check in and pick up supplies. More about the race and strategy later, first I want to tell you what I learned about Yentna Station.
Officially, this checkpoint is known as the Yentna Station Roadhouse. How strange is that? The nearest road is more than 40 miles away! The only way to travel to Yentna in the winter is by plane, snowmachine or dog team. In summer you can add boat because the checkpoint is located on the Yentna River.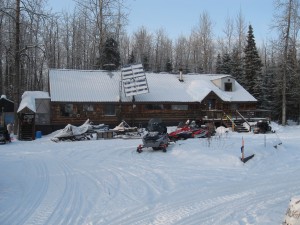 Roadhouses are quite significant in Alaskan history. They are like hotels that were built along trails used by miners, mail carriers, loggers and anyone else who had to travel along wilderness trails. They were generally built a "day's travel" apart. Some were permanent wood structures while others were just temporary tents. Some were quite nice while others just provided shelter and a meal. It seems to me roadhouse should really be called trailhouse.  The Yentna Station Roadhouse doesn't date back to the gold rush days or when mail was delivered by dog team but it has a rich and colorful history.
Dan Gabryszak saw the potential of a piece of land across the river from his moose hunting grounds.  It was a dream that would and still requires enormous perseverance and patience.  The land became available through a public land distribution program.  The stakes Dan and his wife, Jean, placed on the land in 1981 eventually became their home and business as well as roadhouse and back country lodge for adventurers, sports enthusiasts and travelers.  The Gabryszaks have endured through some very lean and hungry years.
Some thirty years later and still run by the Gabryszak family, the Yentna Station Roadhouse, oasis for all, is open twenty-four hours a day, seven days a week, year round.  The roadhouse is a large permanent structure flanked by several A-frame cabins. Services offered include meals, rooms and guides for folks who want to fish, hunt, follow Iditarod, work or travel in the area. It's not only the first checkpoint for Iditarod, it's also a checkpoint for Junior Iditarod, Iditasport, Alaska Ultra Sport, and the Iron Dog Race. Iditarsport and Ultra Sport are both human powered endurance races where people bike, ski, run or snowshoe anywhere from 130 to 1100 miles. The Iron Dog is a snowmachine race of a couple thousand miles. You can do what I did, Google these races and see what they are all about. By the way, in the lower 48 snowmachines are known as snowmobiles.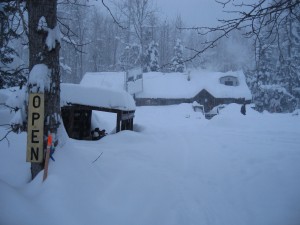 Each year, the Gabryszaks expect around 15 inches of rain and 60 inches of snow and it can get as cold as minus 45 degrees in the winter and as hot as 90 degrees in the summer. Handler saw skiers and bikers along the Iditarod Trail when is was 35 degrees BELOW zero. That's a little chilly for sled dogs but it's REALLY cold for humans. I hope they were wearing warm coats!  Record snowfalls and low temperatures challenge even the most well established businesses in rural Alaska. 
Here's a bit about strategy along this part of the trail. Some mushers check in at Yentna and then run another 34 miles to Skwentna before taking their first rest. Other mushers pick up supplies at Yentna and camp/rest before getting to Skwentna. Those teams check in, pick up more supplies and blow right on through Skwentna. There is so much concentrated action at the early checkpoint that mushers often plan to camp outside the checkpoints for some peace and quiet. It's all in the trail strategy that the musher puts together before the race. I've heard a lot about how important planning is. Here's a little saying – if you fail to plan, you plan to fail. YIKES – I hope everyone has a plan!
Well, there you have it – a little information about Yentna Station, roadhouses in general, the trail and Iditarod strategy. Next Handler is going to tell us about Skwentna. That's the checkpoint she works at – stay tuned for that story and remember, in everything do your best everyday and have a plan.
Born to Run,
Sanka