Why did I choose Grayling of all the experiences I had during the race in 2001?  I had several memorable experiences there.  The first was the weather.  The race in 2001 was the warmest it had ever been (but there have been several warmer races since).  However, at Grayling on the Yukon River it was -45 degrees F while I was there.  Not only was it cold but the wind was blowing at ferocious speeds.  I remember Mike Williams, Sr. coming into the checkpoint and I think he had on every piece of clothing in his sled bag. He looked twice his normal size.  
I was also there for two nights, unusual for the race, but when the Teacher on the Trail is moved is up to the logistics team and race officials.  I stayed in the school in the classroom of the teacher who asked me to come to Grayling, and as it turned out she went out of town for Spring Break.  As an elementary teacher the smell of a classroom, the books, the math materials, and the crayons is a comforting smell.  I remember gaining new ideas for my third graders in this classroom.  
My entry into Grayling was interesting.  One minute the entire checkpoint was laid out before my eyes through the windshield of the small plane and the next I was on my right side.  My wonderful pilot was talking about hitting wind sheer at 200 feet as he expertly righted the plane and landed.   I later learned that my telling of the near crash experience terrified my family and students; I certainly didn't mean to cause them needless pain but it was a very memorable experience for me.
The checkpoint itself in Grayling was in the Community Building which is partially underground.  I always enjoyed going down the steps into the checkpoint. At 5'2" I didn't have to duck; everyone else did.   It was a noisy place most of the time.  Mushers were coming in and out. The COMMS folks were relaying information back to the headquarters because this was all before the trackers and the almost instant communication of today.  I remember one morning watching Martin Buser eat shrimp and rice for his dinner in the early morning.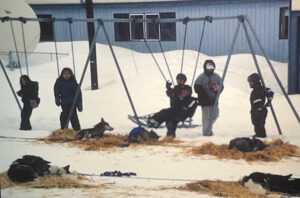 Two of the teachers invited me to dinner at their home.  Their house was tiny to contain the heat in the winter but well organized.  I will never forget next to the refrigerator was about twenty boxes of cereal stacked on the floor.  They explained that they had supplies shipped in during the summer and that had to last the entire school year; they could supplement with the local grocery store but it was expensive to have food flown in.  They spoke of the fresh things that they craved and rarely could get.  Green peppers that weren't frozen were one of them.
  My favorite thing about being there was having enough time to watch the mushers interact with their dogs.  Jon Little kneeled in the snow at each dog's side with the veterinarian while the vet inspected them.  He lovingly spoke to each and showed so much love and concern for their health.  DeeDee Jonrowe was her upbeat self and talked to each dog, encouraging them. Martin Buser, the three-time champion at that time, was quite disappointed in his race as he wasn't where he wanted to be at the time.  Martin was born and raised in Switzerland and I'd always heard he had the nickname "The Singing Swiss."  I was able to watch Martin sing to one of his dogs while rubbing the dog's shoulder for at least 45 minutes. I was struck by the tenderness of the moment and enjoyed his singing from afar.  It was quite a disappointing race for Martin as he finished 24th that year, his worst ever.  However, the next year he came back and won the race and his motto was "Worst to First."