Zuma, Gypsy, Sled Dog Ed, Sanka, and Libby are excited to be the K9 Journalist team for Iditarod! They have each written something about themselves to help you get to know them better. They have lots of great plans and story ideas about things to write about over the next school year. We want to help you know all you can about Iditarod and Alaska.  So give out a "H O W L" and get to know the K9 Journalist Team for Iditarod!
Click on each K9 journalist's photo to read all the articles from that dog. Or visit the Zuma's K9 Journalists page to see post from all here.
---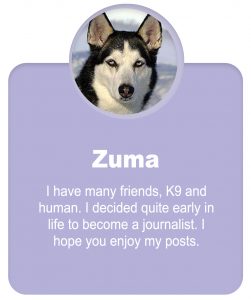 Hello friends,
My name is Zuma. I have been an Iditarod journalist since I retired from racing years ago. As a pup I spent a lot of time around Iditarod Headquarters in Wasilla, Alaska and I got to know the humans who work there. My sensitive ears listened while decisions were made and questions were answered. It was a great place to learn about everything Iditarod.
When I grew into my paws, my human musher put me on the team. I spent time on the trail and met many other canines and their mushers. They all had a story to tell and I decided to be the one to tell it. My time on the trail, as well as the time spent at HQ, makes my job as a canine journalist a perfect fit. I hear from students all over the world and answer their questions in my posts. I am one lucky dog! Tail Wags.
My given name is Gypsum. I was nicknamed Gypsy because I love to wander. My brothers' names fit the rock theme for our puppy litter:  Slate, Granite, Coal Obsidian, and Mica.  My sisters are Opal and Agate! I am a Siberian husky, and my birthday is January 25th. The team at my house is a recreational sled dog team. We will not run the Iditarod, but I will get to run on a team all fall and winter. We even do a few small races. My favorite food is my kibble with salmon soup that my human makes for us.
I love writing about the Iditarod for students!  Look for my articles to learn about the race!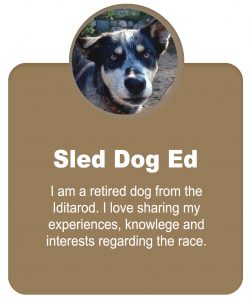 My name is Sled Dog Ed U. Cation. I am a recent retired dog from the Iditarod. I was born in late October and hail from the Midwest. As soon as I was old enough and exhibited top-notch running abilities, my owner moved me to Alaska to begin training for the Iditarod Sled Dog Race. What an experience that was learning the ins and outs of the awe-inspiring Iditarod. For approximately six years I ran the trail and have now hung up my harness! Throughout every race, I absolutely loved the children I met along the trail, the people helping one another and, most of all; I enjoyed teaching other dogs the new tricks. Because I still have so much energy and enthusiasm for the Iditarod Race, I have decided to move on to sharing my repertoire of experiences, knowledge and interests regarding the race. Having been a lead dog I want to use that training to lead teachers and educators to the awareness of, inspiration in and resources for the Iditarod Sled Dog Race.
You will be able to find me, Sled Dog Ed, sharing my ideas and places to locate resources for teaching about the great race in which I participated. Sled Dog Ed is ready to move educators through the obstacles and down the trail….so bundle up and hold on for the ride!!!
My name is Sanka Wusha. The name, Sanka, comes from the character in "Cool Runnings," the movie about the Jamaican Bobsled Team and Wusha is Ethiopian for dog. My birthday is in the middle of May. I was born at Rayme Redington's kennel just a few miles away from Iditarod Headquarters. Anyone who hangs out at headquarters, knows Rayme; he's the musher who brings his dogs to HQ everyday to give tourists cart rides. I came to headquarters many times when I was just a little puppy. Those tourists, young and old alike just love to hold and cuddle the puppies and it helps us get used to being around people. 
The Redington name is pretty special in Iditarod history. Ramey's Dad, Joe Redington, Sr. founded Iditarod along with Dorothy Page way back in 1973. Joe ran Iditarod many times – even when he was 80 years old. Ramey has run Iditarod many times and now his sons continue to raise dogs and run the last great race. 
When I was just 8 weeks old, I moved from Knik, Alaska to Eau Claire, Wisconsin. That's right, from Alaska to Wisconsin! My new family came to Ramey's kennel looking for a good female Alaskan Husky to join their dog team. They picked me – I was so excited! It was a great adventure getting from Knik to Eau Claire. I flew to my new home with my new musher right IN the plane. Yup, they put me in this little soft-sided kennel and I fit right under the seat like carry on luggage. Before getting on the plane, I wondered how I was going to get through security. I saw everybody take their shoes off and put their belongings into bins and run them through the X-ray machine. Thankfully, my musher carried me so I didn't have to go through that scary machine all by myself. It was a nice ride on the plane. I got to sit on lots of laps, everybody made a big fuss over little ole' me and the flight attendants really loved me. I had plenty of food and water although I was a little too nervous to eat very much.
Zuma and I have something very special in common. Zuma was born in Wisconsin and moved to Alaska; I was born in Alaska and moved to Wisconsin. We sort of "traded" homes! When I grow up, I'd like to be as smart as Zuma. Not only do I hope to be a smart dog, I'd like to be a lead dog! I have so much to learn and experience. Let's all be friends and trade stories.
Sanka W. Dog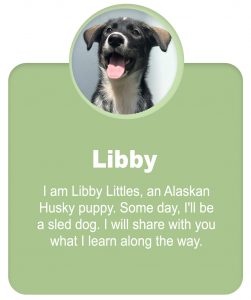 Hi y'all!  I'm Libby!  Libby Littles!  I was just born at the beginning of summer, so I'm still a PUPPY!  I'm an Alaskan husky puppy. Have you ever held a puppy?  We are soft and warm, and we love to wiggle and bounce and play (a lot like you).  
I was born in the Upper Peninsula of Michigan, really close to Lake Superior.  You might wonder why they call me an Alaskan husky when I was born in Michigan. Alaskan huskies are cool because they are a mix of different breeds who are super-perfect for being sled dogs.  I'll tell you more about that another time.  My mom (Ebony) grew up here, but my dad (Lightning) lives with Jeff King, who lives by Denali National Park in Alaska
I was born in a small litter.  A litter is a group of puppies all born together, like an instant big family of brothers and sisters.  I got to spend the first couple months of my life playing around with my brothers and sisters.  Then I left them to join my new team family.  I love to hang around with these big kids. They all have their own funny characteristics.   The people are pretty great, too. I'll share more about them as we get to know each other better. 
My folks (the dog folks) met when mom was in Alaska for the Iditarod.  My human folks helped introduce them, so they got to take one of us home with them. They picked me!  For a long time, everyone just called me "Puppy."  I have fans all over the world on social media (I'll tell you more about that later) and they were watching and waiting to find out my name.  Finally, in September, there was the big reveal: I'm Libby! Libby Littles!
One reason it took so long to reveal my name is that my humans wanted to find out more about me before they named me.  I hear the first woman to win the Iditarod was a fearless woman named Libby Riddles.  Well, I'm pretty fearless!  And I'm little.  Libby Littles.  One thing is for sure, I won't be little forever.
There is a lot to learn here. I'll have fun getting lots of exercise and learning what it takes to be part of the team.  Before long, I'll get to wear my first harness and pull a sled.   I have so much to learn as I grow to become a real sled dog, and I want to share it all with you along the way!