Our monthly Iditarod EDU newsletter, Mush On!, will bring you new ideas, reintroduce familiar standbys, and will be helpful whether you are a rookie or a veteran Iditarod educator! 
Each issue includes links to new and past articles and class activities from throughout the Iditarod EDU website. Click each issue image for a downloadable PDF. 
Got newsletter feedback, questions, or suggestions?
After you enter your email, you will be redirected to a page to confirm your submission.
Newsletter Signup Form

New issues release on the first Wednesday of each month. Enjoy!
2023 Newsletters
2022 Newsletters
| | | |
| --- | --- | --- |
| October | November | December |
| | | |
2021 Newsletters
December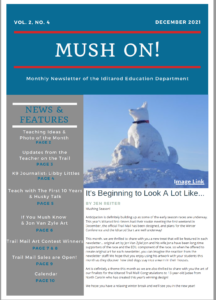 | | | | |
| --- | --- | --- | --- |
| November | October | September | May |
|   |   |   | |
| April | March | February | January |
| | | | |
|   |   |   |   |
2020 Newsletters
| | | | |
| --- | --- | --- | --- |
| December | November | October | September |
| | | | |
|   |   |   |   |