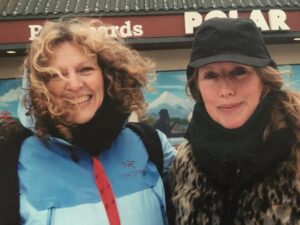 Perhaps the most remarkable thing about my Iditarod experience was realizing the magnitude of
women's contributions to the sport. Seldom in professional sports do men and women compete
together, vying in the same arena, against the same elements, for the exact same prizes. However, from
Libby Riddles' victory in 1985, to Susan Butcher's four victories, through to the many top ten
finishes—including numerous 2nd places—by such women as Dee Dee Jonrowe, Aliy Zirkle, and Jesse
Royer, women have actively helped build this sport across four decades. Meeting Libby, Dee Dee, Aliy,
and many others who have contributed up front and behind the scenes was both a revelation and
inspiration to me, and I know to many, many others, as well.