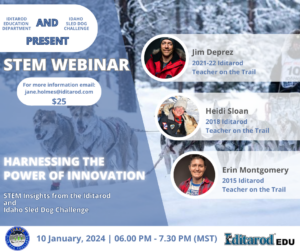 The Iditarod Education Department continues to partner with the Idaho Sled Dog Challenge, an Iditarod qualifier, in developing captivating STEM curriculum tied to both races.  Iditarod Teachers on the Trail™️ Jim Deprez (21-22), Heidi Sloan (2018), and Erin Montgomery (2015) will share research based STEM lessons you can use immediately in your classroom. The Idaho Sled Dog Challenge races are January 29 and the Iditarod Trail Sled Dog Race starts March 2.
So join us via ZOOM on Wednesday, January 10th, at 6 p.m. (MST) for 90 minutes and add these tools to the gear on your classroom sled.  Space is limited to 25. This webinar is not being offered in a recorded version.
Visit this registration link to sign up:  STEM Innovations ISDC/Iditarod EDU Webinar.  While the focus is the ISDC/Iditarod Trail Sled Dog Race, any educator is invited to attend. Direct your questions to Jane Holmes, Education Director, at jane.holmes@iditarod.com.