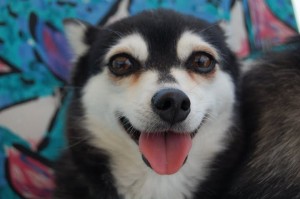 Libby here!
Just the other day I started to think about this years race.  "How many Iditarod races have there been?" I said.
I just had to know the answer so I started to count….. 
So, I went to a place on the website to help me count the number of races.  Click here to see the page.
I started at the bottom of the list and counted up.  I wanted to count the 'old' races first.
The first Iditarod was in 1973, so that was one… and the winner was Dick Wilmarth. 
 The second Iditarod was in 1974 and the winner was Carl Huntington.
The third race was in 1975.  Emmitt Peters was the winner.
Then, I kept counting and counting and counting until I was spinning in circles all happy and excited!  I finally got to the top of the list and what did I find out?
This year will be the 42nd Iditarod!
Just spinning some De'tails'!
Libby