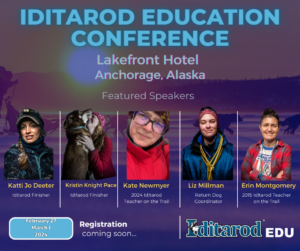 Learn how to harness the power of the Iditarod and sled dog racing to increase student engagement and drive in your classroom.  Add new gear to your classroom sled bag.  Broaden your repertoire of Iditarod-themed lessons in a multitude of content areas and across a wide range of age and grade levels.  This professional development you can't get anywhere else – week prior to race start in Anchorage, Alaska.
Iditarod Education Department Winter Educators' Conference
Lakefront Hotel Anchorage, Alaska
February 27th through March 1, 2024
And look at this!  University of Alaska 1 credit (optional)
​As teachers, you know the impact of the Iditarod Trail Sled Dog race – on teaching, on motivating, on providing authentic instruction, on inspiring, on creating excitement for learning.  Here is what you have been waiting for!  The annual Iditarod Educators' Conference will showcase the resources the Iditarod Education department has for educators everywhere.
Your $600 conference registration includes:
Volunteer room rates at the

Lakefront Hotel

which is Iditarod Headquarters during race time-be right in the middle of the hustle and bustle of race week!

Tuesday and Thursday fully-packed days of sessions on using the Iditarod in your classroom presented by our current and past Iditarod Teachers on the TrailTM and guest speakers

Kate Newmyer, Erin Montgomery, Liz Millman – Return Dog Coordinator, Katti Jo Deeter and Kristin Knight Pace – Iditarod mushers. 
Tuesday lunch – mini "book fair".

  Featured author Kristin Knight Pace and EDU staff recommendations.

Field Trip Day:

Ride a chartered bus to Iditarod headquarters to watch pre-race vet checks first hand, have

lunch,

and then visit

Travis Beals and Sarah Stokey's Turning Heads Kennel

in their new Knik location to meet the dogs!

Your ticket to the Thursday evening

Musher Meet and Greet

before the banquet where you can talk with and get pictures and autographs of the 2024 mushers. Then enjoy the

Musher Drawing Banquet

and all of its presentations.

Friday morning workshop session, collaboration and writing lessons you can use the day you get back to school!  This lesson can double as part of your

University of Alaska

coursework.

Friday morning (optional)

ICE (Iditarod Certified Educator) training.  Here is a link to learn more about ICE: Iditarod Certified Educator
Personal invitation to Jon Van Zyle's 

49th Annual Official Iditarod exhibition ( 1976 – 2024 ) at the GEORGIA BLUE GALLERY, 5 to 7 P.M

We are planning an

informal get together

Monday evening, February 26, 2024, (not included in nor required for  the conference.)
Rich in resources, professional development unique to the Iditarod Trail Sled Dog Race, hands-on experiential learning you can immediately take back to your classroom. Follow this link:
Email questions to Jane Holmes, Director of Education, at jane.holmes@iditarod.com.