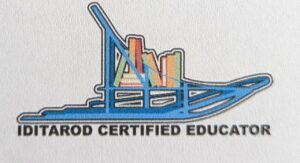 The Iditarod EDU Teacher Certification program is a four-month-long professional development program offered to preschool – high school teachers across the world. The program is divided into four checkpoints that combine synchronous and asynchronous coursework for teachers. The goal is to equip educators with an accurate and full knowledge and background of the race and practice in using that in their teaching.
The first cohort launched at the Winter 2022 Conference for Teachers in Anchorage, Alaska and 11 educators completed the training becoming "Iditarod Certified Educators". 
The Introductory Checkpoint will be offered again during the 2023 conference as an add-on for those interested in participating.
Fill Your Sled With These I.C.E. perks: 
course materials

book for the online book club

I.C.E. t-shirt

Logo to use for email and social media

discounts on future conferences

early registration for Iditarod EDU programs such as the Traveling Quilt, Postcard Challenge, and Trail Mail

Possible newsletter and website publication opportunities 
Tuition Fee: $50 per teacher payable with conference registration.