Our amazing 4th grade students at Eanes Elementary School spent several days designing and creating a "Circuit City" in each classroom for the culmination of our energy unit in science.  Of course, the 2016 Iditarod class created the city of Nome, Alaska, under the twinkling northern lights, with dedicated dog teams on their way to the finish line of The Last Great Race on Earth®.
"Circuit City" was a schoolwide event for our students to demonstrate how electricity travels in a closed path, creating an electrical circuit which then lights a simple bulb.  Making a circuit and creating light with wires, a battery, and light bulb is easy to do, but the effects are magical.
Our science standards for energy, force, and motion ask us to investigate the different forms of energy, including renewable resources such as solar power.
We began our unit learning about electrical safety with a visit from Austin Energy.  Our local electric company has free community outreach programs for schools that show how energy is created and shared throughout our community.
Austin Energy brought in a toy pretend town called "Power Town" to our school and used electrical circuits to show how electricity is brought into every home in our city.  The program also highlighted electrical safety which was a wonderful and important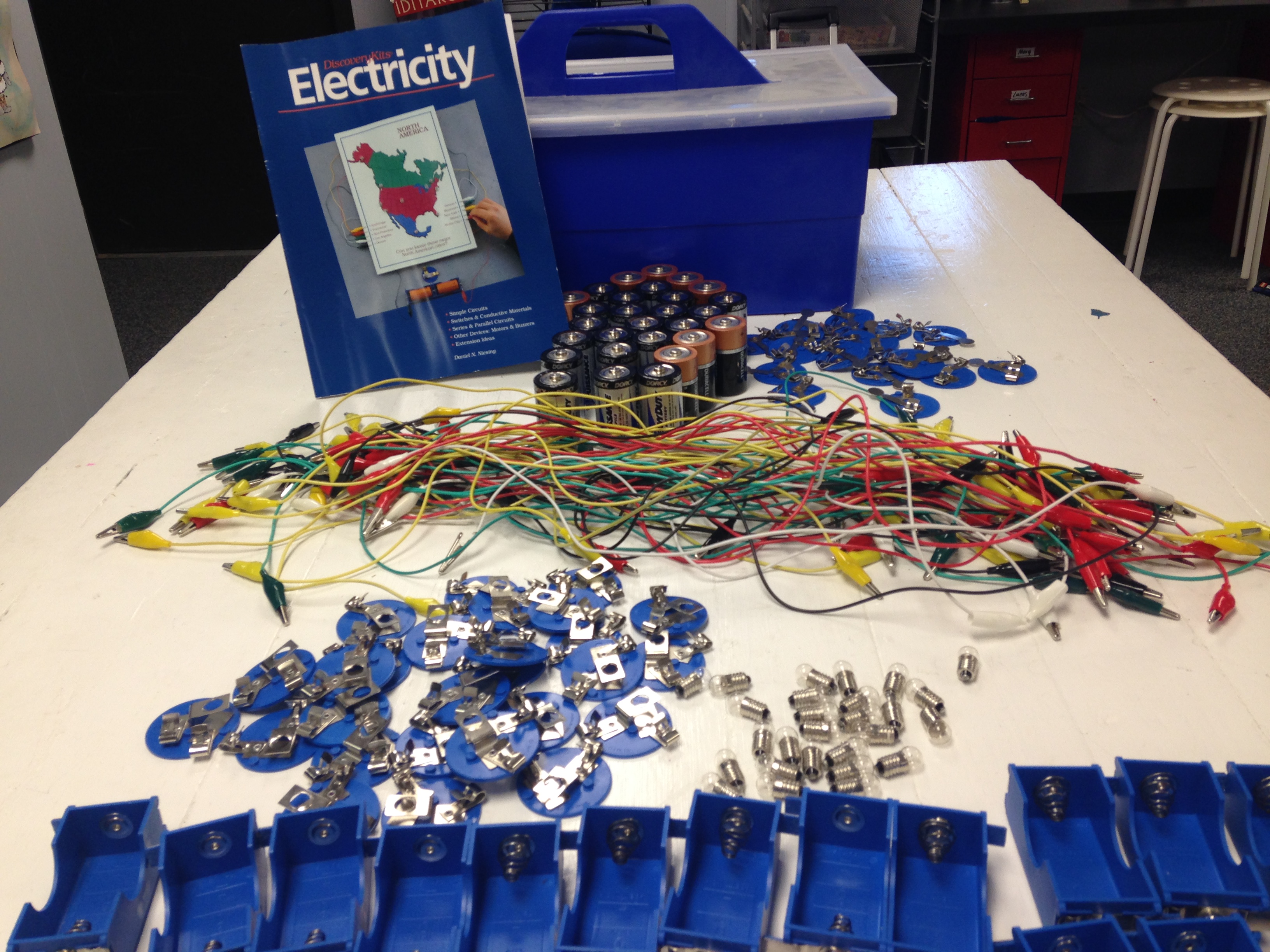 introduction to our energy unit.  I would encourage any teacher to check their local power company for any free school programs available for this project.
At Eanes Elementary School, we are fortunate to have electrical kits from FOSS kits and Caddystack™ Electricity Kits to enrich our circuitry experiments in the safest way possible.
However, expensive science kits are not necessary to light a bulb with a simple circuit.  I gave my students batteries, wires, and a bulb and asked them to find a way to light it up.  This created many interesting "Ah-ha" moments as my students and their partners found a way to connect a simple circuit and create energy.  Then we pulled out our electrical kits which also included switches to "open" the circuit and turn off the energy. Aluminum foil or copper tape can easily be substituted for wire since they both conduct energy.  Experiment with other materials to find conductors and light the bulb.
Our science activity transitioned into a STEM activity with the design and creation of our fantasy village of Nome.  We decided to recreate the Iditarod at night, with the lights of our circuits, wires and bulbs, showcasing the race to the famous finish line.  A simple, donated shoebox from home was used as the basic building form for our creations.  Of course, our fantasy village of Nome had to have log cabins from popsicle sticks, miniature Arctic animals, gently falling snow, and warm and cozy wood burning fireplaces!
We decorated our Nome cabins with gift wrap paper for wallpaper, felt for carpet, and used doll furniture to outfit our rustic cabins or made furniture out of legos from home.  This STEM activity quickly turned into a STEAM integrated art activity, and every child in 4th grade was engaged and excited.  We pushed all our tables together, covered them in white butcher paper, dropped white poly-fill for snow and lit up our city with our homemade circuits.
We left a hole on the roof for our lights bulbs to shine through, and with our knowledge of circuitry, we lit up our houses one by one.  When we turned out the classroom lights, the results of our efforts took our breath away.  We had used science and engineering to recreate a very special place.  Now it was time to share!
Mush to Nome, Alaska!
We turned out the classroom lights, played the classic tune Hobo Jim's Iditarod Trail Song, and invited every student in our school to tour our city and learn about energy and circuitry.
[wpvideo 2unTdrdF]
The other 4th grade classes enjoyed their own special tours.  Unique cities captured the imaginations of all of our students with themes that were personal and meaningful to that particular class.  It was an amazing day of sharing our creativity with not only our school, but central administration and our parents as well.
New York, New York!
Mrs. Victor's class recreated the bright lights of New York City, including a bustling Central Park, a towering Statue of Liberty, Rockefeller Center complete with ice skaters, and the sights and sounds of the "Great White Way" of Broadway.  Students were serenaded by Frank Sinatra as tour guides shared the design and history of their creations.
Hogwarts School of Witchcraft and Wizardry
Harry Potter himself would have been proud to see how the famed school for wizards was recreated down to the last detail by Mrs. Brewer's students.  Her room was transformed into the famed setting for J.K. Rowling's series, complete with owls on the roof, warm, burning fires in the dorm rooms, and a little magic from the students.
The Modern Architectural Wonders of the World
Ms. Walters is passionate about history and art in her classroom, so her students focused on sharing the most amazing pieces of architecture in the world such as the Golden Gate Bridge.  The Empire State Building came complete with its own King Kong at the top.  Her students also became tour guides showcasing how the buildings and bridges were constructed as well as providing interesting facts about them.
Beware of Haunted House Lane!
Mrs. Bromlow's class celebrated the arrival of fall and Halloween by recreating detailed, fun haunted houses.  Some houses were whimsical, some were gloriously creepy, but they all glowed with the eerie light of circuitry!  What a perfect way to celebrate the season.
Austin City Limits
Mrs. Hinkle represented our very own Austin, Texas, by allowing partners to work together and recreate their favorite places around our beloved town.  Students created "Hey Cupcake", a favorite food truck for the delectable treats on Congress Avenue, complete with little toy food.  "Big Top Candy" was recreated in all its glory, including its famous local logo.  One group designed our very own Eanes Elementary School, the oldest running school in Texas, complete with toy desks and little plastic students ready to engage and learn.  Go Mustangs!
A digital personal invitation was sent to every class at Eanes Elementary School to come and visit our "cities" using the Emaze web-based presentation program.  Emaze.com has free professionally designed templates for teachers and students to use to create presentations to share on a site or in an email to others. Simply choose your template, drop in your photos, video, and text, and share it out.  Digital presentations created by students, are alternative formative assessments instead of a traditional paper and pencil test.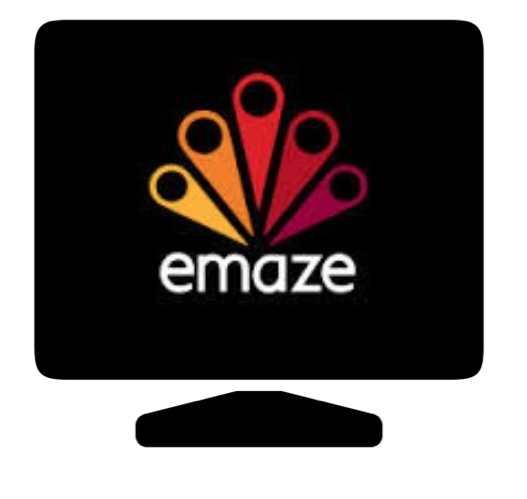 Use the Emaze tools to create slides in your chosen template.  When completed the presentation will flow like a video with the click of the arrow keys on your keyboard.