Thinking Interdependently
by Judi Roach
Title: Habits of Mind and Iditarod connection
Developed by: Judi Roach
Discipline / Subject: Self-Regulation/Life Skills
Topic: Teaching the 16 Habits of Mind using Iditarod Insider Clips
Grade Level: 3rd Through 12
Resources / References / Materials Teacher Needs: Habits of Mind mini posters/Iditarod Insider Video Clips/Sled and dog chart/white index cards with hole punch/hinged clasp ring for holding cards.
Lesson Summary: Incorporating Habits of Mind and Iditarod Insider Clips
Standards Addressed: NS: Self-Regulation Skills; Performs Self-appraisal, Considers Risks, Demonstrates Perseverance, Maintains a Healthy Concept, Restrains Impulsivity
Learning Objectives: The Student will • Define and identify the 16 Habits of Mind • Describe examples of how, when, where, why and how they have used the Habits of Mind • Chart progress as they practice Habits of Mind
Method of Assessment for Learning: • Teacher observation • Students written and verbal explanation of usage of Habits of Mind
Procedural Activities: Teacher duties • Describe Habit of Mind and lead discussion on definition of the Habit and give examples of what it looks like and sounds like in real life. • Give Background knowledge on Iditarod Clip and have students view the clip. Discuss what Habit of Mind the clip covered. • Give feedback to students as they record use of Habits. Direct students to color in corresponding dog on chart. • Hand out Musher cards for exemplary examples of using Habits. Student duties: • Write the definition of the Habit of Mind using mini poster chart and list an example of the Habit of Mind on index card. • Student records how, when, when and where they used the Habit of Mind on the back of their index cards • Students will color in corresponding dog on chart when they have successfully recorded occurrences of using Habits of Mind
Materials Students Need: Index Cards, Hinged Ring Holder, Mini Poster with Habits of Mind, Sled and dog chart.
Technology Utilized to Enhance Learning: Iditarod Insider Videos www.iditarod.com, www.habits-of-mind.net
Other Information: Set up a schedule for teaching the Habits of Mind; one or two per week. Preview the clip so you know what the clip covers. Accept all reasonable answers to questions.
Modifications for Special Learners/ Enrichment Opportunities: Provide verbal support for students who struggle with language.
I felt it necessary to provide information on the Habits of Mind, not everyone is familiar with that program. I found that the connection between the Habits of Mind and Iditarod mushers to be a great combination. Every teacher brings new ideas and ways of incorporating Iditarod into the classroom and this is how I have done that.
Habits of Mind are intelligent ways of thinking; behaviors that we use when approached with life's challenges. In 1982, Dr. Art Costa and Dr. Bena Kallick developed the habits. They have authored a series of four books, Habits of Mind: A Developmental Series, which facilitate the teaching, assessing and cultivating the 16 essential habits. In the beginning, Dr. Costa and Dr. Kallick knew it was necessary to identify, put a name to, those behaviors that are essential for students to succeed in a learning environment and necessary for people to manage their lives. Thus the habits were born.
My first encounter with the Habits of Mind occurred during my master's course of study through Walden University. I took a class on the Habits of Mind and Self-Directed Learners in the spring of 2006. As I was taking this class, I instantly knew this was something that I needed to implement in my classroom. My journey with Habits had begun. During that semester my fourth grade students and I discussed each of the Habits and gave examples of what they might look like to a fourth grader. Each student illustrated a Habit of Mind and made a poster that I laminated and still use. As we followed the Iditarod race that year and learned more and more about Jeff King, I started to see a direct correlation between Jeff's success and the habits. The written result of that incredible connection was a classroom book titled: Jeff King, Our Hero. In this book, the fourth graders each picked a habit, wrote a paragraph about the Habit, and how Jeff King used the habit. They used their creative juices to illustrate the book. The culminating project was that Jeff came to my classroom and listened as each student read his or her page to him. We gave the original book to Jeff and all of the kids got a copy autographed by Jeff. This is how I started to use the connection of Habits of Mind and Iditarod.
Before teaching HOM, teachers must address the issue of self-directed learning. Students need to know and understanding that they are in charge of their learning and behavior. The three key processes involved consist of managing, monitoring, and modify their learning and behavior.
1 Manage your learning and behavior! *You are in charge of your learning and behavior.2 Monitor your learning and behavior *Be aware of your learning and behavior. *Are there obstacles that are keeping you from learning? *Is your behavior helping you succeed and accomplish your task?3 Modify your learning and behavior! *Make changes in your environment, clear all distractions. *Change your self-talk, be positive!
The 16 Habits of the Mind as Identified By Drs. Bena Kallick and Art Costa
Being Persistent…..ASK YOURSELF, -Have I used all of my resources, people and information to complete my task?" DON'T GIVE UP, KEEP TRYING, YOU CAN DO IT!
Precision of Language…….WHAT IS THE BEST WAY TO COMMUNICATE THE INFORMATION, USE THE RIGHT WORDS AND INFORMATION!
Decreasing Impulsivity……….MANAGE YOUR IMPULSES! (BLURTING, REACHING FOR THE JUNK FOOD, LISTEN FIRST/SPEAK SECOND (then you don't have to eat your words!)
Using all Sense, gathering information through your senses…USE YOUR EYES, EARS, TASTE, SMELL AND TOUCH TO BE AWARE OF YOUR SURROUNDINGS! KEEP YOURSELF SAFE; TAKE IN INFORMATION FROM ALL SENSES.
Listening with understanding and empathy…………USE THE THREE STEPS TOACTIVE LISTENING AND TRY TO IMAGINE HOW YOU MIGHT FEEL IN SOMEONE ELSE'S SHOES.
Ingenuity & Originality, Innovating, Creativity…. USE YOUR IMAGINATION TO CREATE SOMETHING NEW OR CONQUER A NEW TASK.
Thinking flexibly!……THERE ARE MANY WAYS TO SOLVE PROBLEMS, CONSIDER ALL POSSIBILITIES.
Responding with wonderment and awe…….LEARN SOMETHING NEW EVERYDAY! DISCOVER SOMETHING YOU DIDN'T KNOW!!!
Metacognition, (thinking about your thinking) …… HOW DO YOU LEARN BEST, SEEING, HEARING, TOUCHING! THIS IS KNOWING WHEN YOU DON'T KNOW and then ASK questions.
Taking responsible risks……..IS THIS A SAFE RISK? IS IT WORTH TAKING? WHAT HAVE I DONE TO MAKE THIS A SAFE RISK. WE LEARN BY TAKING RISKS!
Checking for accuracy…DID I CHECK MY WORK! ARE THERE BLANK SPOTS ON MY TEST? IS THIS MY BEST?
Finding humor………..ON A SCALE OF 2-10 IS THIS A 2 OR A 10? LAUGHTER IS THE BEST MEDICINE! LAUGHTER IS THE MUSIC OF LIFE!
Questioning and posing problems……..ASK QUESTIONS TO LEARN MORE? IS THERE A PROBLEM THAT YOU MIGHT FIX? STRETCH YOUR BRAIN! SCIENTIST AND INVENTORS DO THIS ALL THE TIME! THINK OF A PROBLEM AS AN OPPORTUNITY TO USE YOUR HABITS OF MIND AND LEARN MORE!
Thinking interdependently……..TEAM WORK! WHAT IS YOUR ROLE AND HOW WILL YOU GET IT DONE? TOGETHER EVERYONE ACCOMPLISHES MORE!
Drawing on past knowledge…USE WHAT YOU KNOW TO LEARN MORE! YOUR KNOWLEDGE WILL GROW IF YOU USE WHAT YOU KNOW TO LEARN THE NEXT BIG THING!
 Remaining open to continuous learning…BE A LIFELONG LEARNER, YOU CAN LEARN SOMETHING FROM EVERY PERSON YOU MEET! BE ADVENTEROUS, GO LEARN A NEW HOBBY OR SKILL! YOU NEVER KNOW WHEN YOU MIGHT NEED THAT PAST KNOWLEDGE TO HELP YOU LEARN MORE!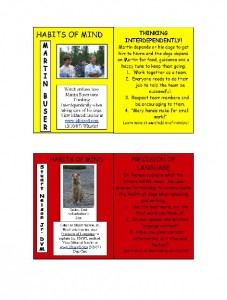 Additional Information:
Iditarod Central: Iditarod and Habits of Mind Quest Project
The kids at Central Elementary, also known as, -Iditarod Central; have been learning and using the Habits of the Mind. The Habits of Mind are 16 ways of thinking that help people be successful. The teachers taught us what each habit means and we wrote the habit, its definition, and an example of the habit on an index card. We watched Iditarod Insider video clips for examples of how mushers use the Habits. We each have a worksheet with a sled, which represents us, and 16 dogs, one for each of the Habits of Mind. After we write how, when, where, and why we used a Habit, we get to color the dog labeled with that Habit. We also can earn musher cards for really good examples. The card has a picture of a musher, a clip from Iditarod Insider and explains the Habit that is demonstrated in the clip. Our goal is to have our entire dog sled team colored and complete our Iditarod/Habit of Mind Quest.
After we have completed our Quest, we each earn a certificate and an Iditarod pencil. Mushers use thinking interdependently to work well with their dogs. The students at Central use it to get a goal done. Using Habits of the Mind really works, so we use them all the time. We have learned a lot from the Iditarod mushers and how they use the Habits of Mind